Why Nigeria needs to increase import tax on starch to 60% —Adeyemi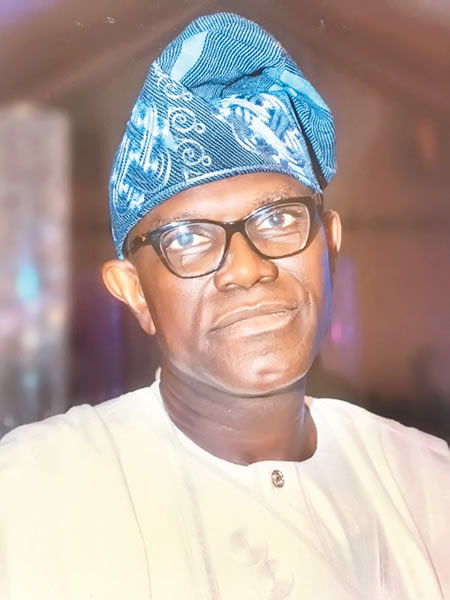 Chairman of Harvest Feeds and Agro Processing Limited, Goke Adeyemi, in this interview speaks on the need to increase tax on imported starch in order to grow the local industry, which in turn will encourage cassava farmers to produce more. He also talks about other challenges confronting the industry. COLLINS NNABUIFE brings excerpts.
What was the outcome of the ERGP meeting which you attended?
The Economic Recovery Growth Plan (ERGP) Focus Lab happened between 13th of March, 2018 and 28th of April 2018. Harvest Feed and Agro Processing Limited as one of the key starch manufacturers, we participated fully in the in the Focus Lab, and the outcomes of the Focus Lab was that we requested for import adjustments tax on imported starch coming into Nigeria, right now import duty paid on starch importation to Nigeria is between 5 and 10 per cent, at this rate, the landing cost of imported starch is lower than the price of locally produced starch, so it makes patronage of our products difficult and makes cassava utilization in Nigeria almost impossible in terms of industrial utilization of cassava which is the direction the government wants to go.
There is need to protect local industries, if there is no protection for local industries, there will be no industries at all, so our request is for government to protect us by increasing the import adjustment tax on the imported tax from 5 per cent to 60 percent at this rate, what will happen is that the landing cost of imported starch will be close or out the price the local producers are also producing.
Right now, imported starch sell about N160,000 per ton, but locally produced starch at about N190,000 per ton, so, evidently, manufacturers will go for the cheaper one which is the imported, but if the import adjustment tax is done, they also will will sell at about N190,000 to N200,000 per ton, so we can be competitive.
Cassava Processing in Nigeria, we are basically in the rural areas, where infrastructures are difficult to get, for example in my Factory in talking about power supply, even though we spent a lot of money to bring in 33KVA line with transformers and the rest of them, but till now, we sparingly get power, so we run on generator, evidently, with cassava Processing and local manufacturers running on generators to power our factories, cannot generate sufficient profit, profitability will be under stress, as a result, competitiveness with imported starch will be very difficult, so we need protection from government, and also to provide us with infrastructure, electricity for example and roads to help us in ferrying our cassava from the farm to the factory.
So, those three things were what we demanded for and we expect response from government, it's already 3 months that we finished the Focus Lab we want action now.
 Has government taken any significant action after the requests you made?
We want to commend the government, they have the intention but I think it's very slow, they need to accelerate their response to this, we are in touch with the Committee that drove the implementation of the Focus Lab, I think they are in the Ministry of Planning, we are in touch with them, up till now, they are just telling us to wait, we have been waiting, but we want action, because this is the time we can take advantage, cassava production in Nigeria also got a boost last year, even till this year, but if the utilization of the factory is not there, the price will crash, and when the price crashes, cassava farmers will not be encouraged to further and do for next year, it's a link, once the factories are getting demand of cassava from farmers, farmers will grow more, but if what is happening now, the industries are not using enough cassava, the farmers will have cassava on the ground, nobody is going to buy it, it either spoil or they sell it at very ridiculous low prices which is not going to even meet their profit at all or even override their cost, as a result, they will be dissuaded next, this will have a snowballing effect on the economy.
So, what we are asking the government to do is to take the bull by the horn, increase the import adjustment on the imported starch to Nigeria, corresponding it to about 60 per cent, let the local manufacturers come up in terms of patronage, we require a lot of starch in Nigeria, but basically almost 80 percent of them come from abroad, we can also provide at least 50 per cent of what we want in Nigeria, gradually we increase capacity to what the economy would demand.
What are the economic potentials of starch?
It has a lot of impact in the economy, don't forget, we have over 5 million cassava farmers in Nigeria, before now, we use cassava basically for food, but industrial utilization of cassava is already growing, for example, we have 8 starch manufacturers in Nigeria today, with a total capacity of about 100,000 metric tons of cassava per annum, we have industries that use cassava to make alcohol, we also have cassava flours manufacturers, so industrialization of cassava is already getting ground, the only thing that is militating against further expansion and further utilization is that the competitiveness of imported starch derivatives into Nigeria, is making the local ones not competing with the imported ones, and the industrial users of starch, flour, alcohol they prefer the imported because it's cheaper, so we are saying, increase the import tax on these products coming into Nigeria from 5 per cent to 60 per cent such that they can also be high in price and we can compete, don't forget we are at a disadvantage of not having infrastructure, and we are also talking about growth, in my factory, I employed 189 people, we are talking about direct employment, what about farmers, transporters, so we create a lot of employment and grow the economy by adding value to the cassava that is grown by farmers, and farmers also make a lot of money because they are increasing their capacity maybe from growing 1 or 2 hectares, to growing about 10 hectares, so with that, we begin to have multiply effect of cassava starch utilization in the economy.
What is your relationship with cassava Farmers, Doug you empower them to produce more?
What we do with farmers is such that, for example, am a processor, from the beginning, I have cassava farmers who I give what I call out-growers fund, I have 3 tractors in my factory which I use to help farmers, and I bring them up together in cooperatives, with some organizations lake Cassava Adding Value for Africa (CAVA) and some other NGOs we do training for them, we help in terms of mobilizing resources and getting them supervise their farms so that they can increase and I also encourage them to go from smallholder farming into pseudo commercial farming, for example, some of them were doing 2 hectares, 1 hectare, and now they start growing into making 5 to 10 hectares of cassava, because that is what we need, we need to go from peasant farming to commercial farming, our relationship such that encourages them to start taking steps towards going to commercial farming that's what we do for them.
What other major challenges do you encounter as a processor?
One step after the other, the first challenge is the import adjustment tax on the imported starch from 5 per 10 per cent to 60 per cent, that will make our product competitive with the imported, and the patronage will be there, then we can unleash the capacity in our factories, for example, my factory run about 30 percent capacity, it can run on 100 percent or even more than 100 per cent for example.
So if that import adjustment tax is done, I can run at a higher capacity, producing more starch, employ more people, buying more cassava and cassava farmers growing more cassava.
In terms of militating the boost in the industry, infrastructure, particularly electricity, yes, there has been some improvement especially in the domestic electricity supply in houses, I live in Lagos, sometimes in Abeokuta, we can see that, but in the industry, we have not felt that impact of electricity increase yet, basically, we still run on generators, and this is taming a whole lot of resources out of  the industry, and it will militate against expansion of the utilization of cassava in Nigeria.
Big players should also support the young players in the industry, multinational companies that are starch users, textile companies uses starch, packaging companies uses starch a lot, seasoning company uses starch a lot, food industries, brewing industries uses starch a lot in Nigeria, all these big players, should also assist the local starch manufacturers in developing their technology, in developing their quality and factory efficiency, take them up gradually, they are there as big brothers, we expect them to stretch their hand of fellowship, when they pull us up, we pull the farmers up, and we all together pull the economy of Nigeria up, those are the advantages we can derive from this advocate.