Have you had a taste of Isapa soup?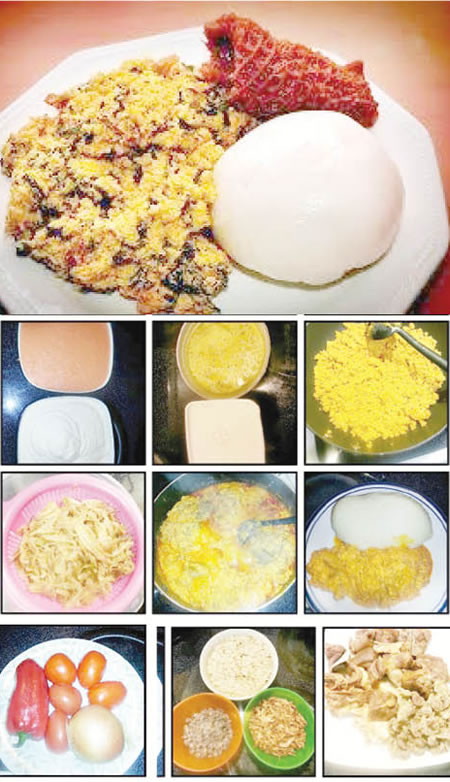 Isapa soup is a common soup in Ekiti but it is a common vegetable in the West Africa. This delicacy is just like any other vegetable as in preparation. Although, it is seasonal (thrives in the rainy season) the dried one is sold in the market. Try and explore the world of soup this week end by eating Isapa.
Ingredients
Tomatoes
Tatase
Rodo
Onions
Iru (locust beans)
Crayfish powdered stockfish (optional)
Dry fish
Melon
Palm oil
Seasoning cubes
Meat(Goat meat/cow meat, chicken, various beef intestines)
Isapa leaves
The first stage is to soak your dried or fresh Isapa leaves (Roselle Calyx) in hot water if dried or just warm water when it is fresh, then ash is added to it and left overnight to soak ( this is to make it soft and as well as reduce the sour taste (ash addition). After that, you should rinse in clean water and put in a sieve- Blend tomatoes, onions, tatase, rodo, together with iru if you don't like seeing the seeds. Pour the mixture into a bowl but do not rinse your blender. Wash your melon thoroughly and blend with small quantity of water so that it can form balls by the time you fry. Pour the blended melon in a bowl as well, rinse the blender and pour the water into a separate bowl.
– Boil all the meats together. When they are cooked, remove the meats and put the stock into a bowl and keep aside.
– The next thing is to fry the melon. But add a pinch of salt to it and stir before you start frying. Put a frying pan or pot on fire and pour palm some palm oil in it. Allow it to heat for few minutes and start to add your melon as if you want to fry akara. Stir as often as possible to avoid getting burnt. Keep it aside as soon as you are done with  frying because you are not going to use it until you get to the last stage. But if you are using grounded melon, just add little water to make a paste and follow the procedure to fry as well.
– Put another pot on fire and pour a small quantity of palm oil, heat for few minutes and your pepper mixture. Cook it for about 15 minutes and add the water that you rinsed from the blender after blending the melon. Add iru (locust beans), crayfish, meat, stock fish, seasoning cubes and salt. Cover the pot until the palm oil can be visibly seen on it.
– At this point, you can turn your Isapa leaves into it. Stir continuously until everything mixes well together. Lastly, turn your fried melon and stir together. Isapa soup is best served with pounded yam or any other swallow as well as grains such as rice.