Ajimobi has eliminated godfatherism, money politics in Oyo politics —Olaosebikan, APC gov aspirant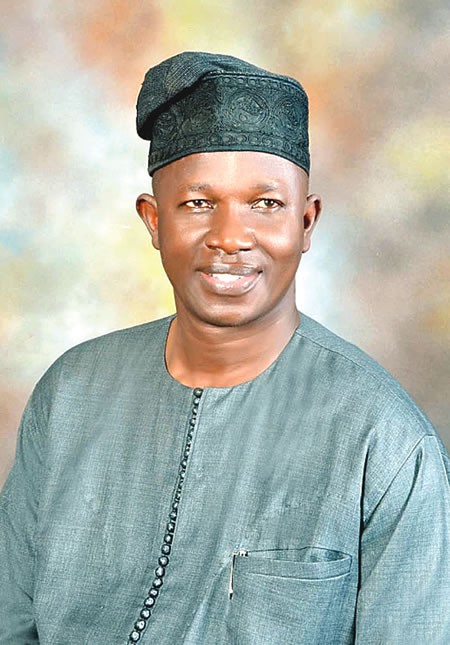 Alhaji Kehinde Olaosebikan was Chief Press Secretary to former Governor Lam Adesina, a former local government chairman and a governorship aspirant in Oyo State on the platform of the All Progressives Congress (APC). He speaks with DAPO FALADE on sundry issues affecting the party in the state.
Some people see you as a perennial contender who is always out to contest. What informed your decision to contest for the governorship of Oyo State in 2019?
Thank you. I take it as a compliment that people see me as a perennial contender, wanting to contest always. What they are observing is somebody who is naturally desirous of serving; a selfless person that is more interested in the good of others and the betterment of the society than personal aggrandizement; somebody that is caring and passionate about the development of the state. It speaks to the confidence I have in myself, in my ability, competence and sincerity of purpose to serve, lead and bring about a better society. It also takes a person without any form of  liability to be always out to contest.
The reason I am contesting now is not quite different from what informed my earlier attempts, only that now, I am further encouraged by the prodigious achievements of the incumbent governor, Senator Abiola Ajimobi. I am particularly buoyed by his accomplishment in raising the bar in governance and politics in Oyo State and I want to say that is what inspired the choice of my campaign theme 'Ojo Ola Oyo'.
How did his accomplishments inspire you and what do you really mean by the theme?
Let me start from the latter for better understanding. 'Ojo Ola Oyo' literally means the tomorrow (future) of Oyo. When I say Oyo here, I mean Oyo State, not Oyo Town. It is a very deep concept. It encompasses so many things: How Oyo State will be in the future; the determinants of the future of the state; the future owners of the state; the components of its future; and the totality of its future. The message is essentially for all of us to give our best today for a better tomorrow of our dear Oyo State. It is about working and doing everything today for a better tomorrow.
And upon critical analysis of this, one would realise that majority of those that can effect this are the youth, that demographic group I call the real owners of today and tomorrow. In some climes, they don't see people above 50 as owners of the land; they see them as tenants. That is why I am particularly in campaign and target precise, urging the youth from age 18 and above, not only to be involved in the development of their immediate communities, but to also join party politics.
It is gratifying to note that, less than a week after its launch, 'Ojo Ola Oyo' has become a movement. Youth, students and artisans have keyed into it. Those young chaps I just saw off are students from our higher institutions, here in the state. They came to inform me of their decision to launch 'Ojo Ola Oyo' in their various institutions. Let me keep the details. It is already a huge success.
And who has made this achievable? It is Governor Abiola Ajimobi. The programme of encouraging the youth to join politics is not a thing I just started now. It is a concept I developed over a decade ago, but it was not practicable because of the prevailing situation then. In 2010, as the Director of Publicity for the campaign of a party, I attempted to introduce the programme but it did not see the light of the day. It was killed right inside the house. Members of the team believed that students and parents would kick against it; that by encouraging the youth to join politics, we just wanted to expose their children to violence and all the bad things associated with politics at that time. I had to drop it.
But today, violence, thuggery, killings have become things of the past in Oyo State politics. Governor Ajimobi has sanitised our politics, making it attractive to the youth, successful professionals and businessmen and women. So 'Ojo Ola Oyo' is conceived to consolidate and progress on the unprecedented success achieved by Governor Ajimobi in social, political and physical transformation of Oyo State.
Insinuation is rife that the governor has an anointed aspirant. Are you the one?
To the best of my knowledge, he has not anointed any aspirant. From what I have seen and read of him, I think he is desirous of giving Oyo State the best person as the governor in 2019. Given the qualities and all other things he is looking for in the candidate for the position, my take away from all these, plus his body language, is that he is looking for an excellent leader to lead the state from 2019. It is nothing seriously personal to him. I commend him for this and I pray that God guides him in achieving this great desire.
Who then is your godfather and sponsor?
I started politics very early in life and I have never believed in politics of godfatherism. When we started then in the Elekuro house of the now late Alhaji Yisa Lawal, the father of that American business mogul, Kayce Lawal, we did things in the youth wing of the defunct National Party of Nigeria (NPN) on our own. All of us, young Nigerians of ages between 18 and 30, got ourselves together and we were a force to be reckoned with. The state chapter of the party had to involve us in the primaries that led to the emergence of Dr Omololu Olunloyo as the governorship candidate of the party.
This is one of the reasons I am encouraging the youth to join politics now because they have the numerical and physical strength to win the highest positions. You don't need a godfather or deep pocket to succeed in politics. You only need to believe in yourself, stay focused, work hard and the sky is your limit.
I have to bring Ajimobi in here again, but you know quite well that I am not given to sycophancy. I want to say this just for the purpose of information and educating us on the level of our politics in Oyo State today. The final battle against godfatherism and money politics in Oyo State has been fought and won by Senator Ajimobi in the last APC congresses. He fought the battle almost single-handedly and he deserves commendations from all of us, including non politicians.
How did he fight it? What we heard was that so many aggrieved party members left because they said he was unilateral in the choice of executive members all over?
Thank you. That is not possible. How could a governor chose all the executive members in a whole state? No! In contests, there will always be winners and losers. While some are good losers others may choose to be bad losers. In this case, what the governor did successfully, and for the first time in the history of Oyo State, was that he did not allow any person or group to hijack the party machinery at any level of government. This has put an end to godfatherism and use of money, at least, in APC in Oyo State. You could see too that with his pragmatic, methodical approach to the primaries, there was no rancor whatsoever in any part of the state.
But some notable party members left…
That is normal in politics. But the good and commendable aspect of it is good management of people and issues with the resultant rancor and violent free congresses throughout on both sides. Today, APC in Oyo State belongs to the members of the party at the various levels. No stranglehold of party machinery by any big man or money bag. So when we say Ajimobi has raised the bar, it is not the bar in high jump. It is the bar of politics and governance in the state. It is also instructive and I pray for God to guide him in the choice of his successor so as to hand over to somebody that understands politics and governance deeply.
Do you have the financial muscle to withstand the wealthy aspirants in the race with you?
Let me start by saying that money is important in this contest as it is in other human ventures. But, with the level of our politics in Oyo State, money will not determine the winner of our primaries in APC. Be it House of Assembly, House of Representatives, Senate, governorship and Presidency, the role of money would be very minimal. Our party is more interested in choosing the most electable persons for all the posts without serious recourse to money as it was successfully done when we elected our party executives. So, to answer your question, money would not be a hindrance.
Do you think APC can withstand the threat posed by the opposition especially PDP, ADC and ADP ahead 2019 elections?
I don't see any threat from any of these parties as they are almost nonexistent in the state. How can you say parties that are still begging and prostrating for people to join posed threat to us? How can you say people that have lost values and credibility posed any threat to us? Not at all!  The only organised party with all the structures solidly in place in the 351 wards of Oyo State and fully ready for 2019 is APC. We have all our executives well rooted across the 33 local government areas; our state executive committee is up and doing. We have a strong and visionary leader with the greatest understanding of politics, issues and governance among his peers.