I became an actor by chance —Actor Michael Okon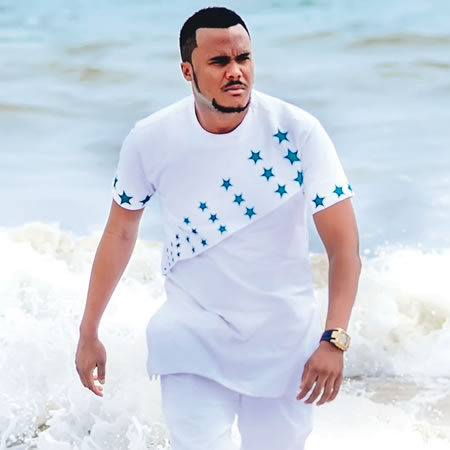 Michael Okon Enyong is a rising face in Nollywood, though he's been around the entertainment industry as a model and then, a radio presenter in Port Harcourt, Rivers State. He was first featured in the movie, Fragile Pain in 2004 and since then, the Akwa Ibom State-born thespian has continued to appear in recent projects. In this chat with Newton-Ray Ukwuoma, he speaks about his challenges in and transition into the movie industry. Excerpts:
How has life been since you joined the movie industry?
It has been great. I have always been passionate about entertainment.
You were initially a model. How did you get into the movie industry?
True. The movie industry was not my first foray into entertainment. I was modeling back. From modeling, I did an internship with Raypower to become a radio presenter. I came to Lagos to visit my friend one day and we were at the National Theatre when a producer saw me and decided to feature me in his movie. That was my first work in Nollywood. From then on, I started getting regular jobs. So, I decided to make it my mainstay. To develop my craft a little bit more, I took some specialised classes. And so far, it has been awesome for me.
Is it okay to say you joined the movie industry by accident?
I would not say by accident per se. I said early, I have always rotated around entertainment. Perhaps, by chance I became an actor, but what I really wanted was to major in radio presenting. At the time I joined Nollywood, it was undergoing some changes.  I thank God I was part of the movement.
What year were you featured in your first movie?
In 2004.
Looking at the roles you have played so far, would you say your looks has largely defined your career?
Several people would love to typecast based on your looks. If they see that you are a good looking person, they want to put you in a certain role: the lover boy, the good husband — all those goody, goody roles. And if they see you have a rugged look, you will probably not get those. Sometimes, I believe that isn't how it should be. Somebody might not be good looking but might be a better character in a role of a playboy for instance.
It depends on the storyline of the film. And sometimes, an actor should not always settle for the role they have been given. Sometimes,  you go beyond your own borders, try to push forward. Demand for other characters. There was a time I was given a script and the usual role. I asked for the list of those playing other roles. (I actually like to do that.) And I was told a particular role hadn't been taken yet, I then decided to take that role. That role was the role of an antagonist. I wanted to put myself in the image of a villain. I was told that I was not that rugged enough, but I insisted. Everything is action. Sometimes you have to do some things that create suspense in the movie. Because when you see a rugged person, you immediately know that this person was going to do something bad. Take a good looking person, let him smile, let people not know what he is up to and let him strike with such evil that would shake popular belief. That is suspense. That is intrigue.
In the movie, Delilah, how did the casting play out?
My character in Delilah was a very special one. The character I played in Delilah is not completely a good person. Yes, from the beginning of the movie, the character of Barrister Jason is a stable family man, a dedicated husband and lawyer. Along the line, he starts getting carried away with Delilah and he is ready to jeopardise his marriage because of his lust for Delilah. He becomes manipulative, not knowing that he is the one being manipulated. That change in character is what I really like about Delilah. There is a range to it.
Let us talk about the challenges you have faced trying to build your character since 2004 up till now?
I would say that the challenges are not peculiar to one person in the industry. It is perhaps general. Personally, I try as much as possible to go through many self-development programmes. We have so many platforms where you can upgrade yourself. Thank God for internet and the materials on Youtube. People might look at these platforms as insignificant but trust me, there are many materials posted on Youtube that can help you understand the core of role interpretation.
But generally because of the industry's lack of funding, there are certain projects that are undertaken on very poor budgets making producers  to rush to save cost. On the part of the actors, there is not enough time to exhibit that range you want to. Sometimes you can get a call today and you are told that you are starting a project in three days' time. And the character is totally different from what you are used to. How much time do you have to research that character? On set, you are to shoot for five days. And you need that time to bring that range out. When you ask for an extension of time to work on your role, you are told that there is no time. You have to understand. It is not the fault of the producers per se. These things are the things that affect the industry. You are not given the adequate time to fit into a character because you are being rushed, but we are still trying as much as possible.
Are you saying the reason some actors interpret roles poorly is because of projects that are rushed due to low budgets?
Yes. If they want to shoot some of the scenes in one location at a particular day and maybe one or two natural hazards happen that day, maybe rainfall or clashing sounds, because of that you have to finish that day and you cannot afford to come another day. All the remaining scenes for that day will be rushed. You might not have enough time to bring out certain emotions that are required of you. Where the director would have postponed production due to hazard, he will insist that that scenes be done regardless because he would have to pay for the location a second time. So, these things happen.
Have you ever had a situation where female admirers interrupt your acting?
Yes, it happens; but you have to be as professional as possible. There are also certain crew members, who are to ensure that the actors are focused on the project. For example, if you are shooting in a mall and some female fans come to take pictures I usually have crew members who will block them until the scenes are taken, then we take pictures and chat.
What is the craziest thing a fan has done to you?
There have been come crazy things. It is normal, I think. The only one I considered freaky was when I had an artiste appearance in a school. There was a particular school I went to, when it was time for me to say hi to the students, all of them ran towards me and just crowded me, and believe me, they were touching parts of my body. It was a little bit freaky and I am like this can get crazy.
Which parts of your body?
No. I cannot put that out. But those are part of the crazy things.
What are the criticisms you have gotten for your roles?
I get negative criticisms.  I get things like, "Why didn't this emotion come out like this?" "Why didn't you dig deeper?" There are feedbacks here and there. I watch my own movies sometimes just for me to understand where and where I need to improve. When I watch some scenes from my movies, I go to see places where I should have done better. I also watch a lot of other movies. There are certain actors local and international that I learn from. So, I also criticise myself.
You have been in the industry for some years. Are there controversies you would like to address?
Being out there in the media comes with its own controversies some times. Yes. There are certain things I would love to clear, but this is entertainment. There are things you should let go. I have been able to develop a thick skin towards negative press. I can ignore them.
You recently got married.  How is married life?
Marriage has been wonderful. I met someone who I fell in love with and who really understands me. So, many qualities that if I start now, I may not finish.
Do you believe in the culture that deprives women the ability to propose to a man?
A lot of people would say culture does not permit a woman to propose to a man and so on and so forth. I believe we have come to a point where the world is liberal. As long as the two persons involved are emotionally matured, and would not put it in mind and start using it especially the man against the woman. And it has to be where even the woman, who is proposing, already understands the man and not doing it for the sake of society or a trend. We have come to the stage in live where things are liberal.