Why candidates' performance in WASSCE 2018 dropped — WAEC, Okebukola, others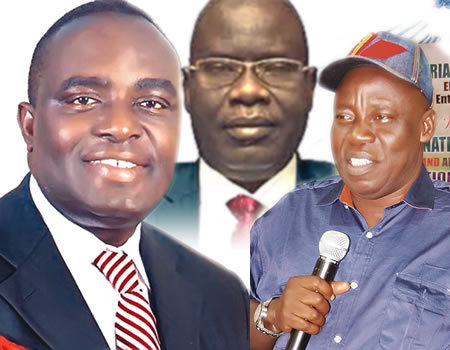 TUNBOSUN OGUNDARE t x-rays the factors responsible for the dip in candidates' performance in the April\May West African Senior School Certificate Examinations (WASSCE ) conducted by the West African Examinations Council (WAEC)
It is no longer news that more than half of candidates who sat this year's April\May West African Senior School Certificate Examinations (WASSCE) conducted by the West African Examinations Council (WAEC) failed the examination.
This year's performance with 923,486 (representing 49.98%) out of the total 1,572,396 candidates who sat the examination and obtained credits and above in at least five subjects, including English Language and Mathematics, which is the benchmark for university admission, is much better than the 2014 and 2015 editions, where only 31.28 per cent and 38.68 per cent of the total candidates respectively had similar results.
ALSO READ: We'll collude with PDP Senators to impeach Saraki ― APC
The issue, however, is about the decline in performance when compared with those of 2016 and 2017 editions, where more than half of the entire candidates who sat the examination had the benchmark score in each diet.
The records actually showed that 52.97 per cent of the total candidates obtained the pass grade level in 2016 and 59.22 per cent in 2107. Many Nigerians then received the steady improvement happily hoping that the upward movement would be sustained and even improve. But they are wrong. This was not to be, as this year's performance regressed by about 10 per cent.
What then could have gone wrong? Stakeholders, including WAEC and some education experts such as the former executive secretary of the National Universities Commission, Professor Peter Okebukola; the national president, Nigerian Union of Teachers, Mr. Michael Olukoya, and the national president of the Parent-Teacher Association of Nigeria, Alhaji Haruna Danjuma, did not only supply the answer, but also proffered practicable solutions.
WAEC on many occasions had    come out to defend its own assessment, maintaining that its questions every year were set within the scope of the syllabus to meet the standards required of globally recognised certificates.
The Head of National Office of the examination body, Mr Olu Adenipekun; as well as the National Examination Committtee, which is the highest decision making organ for the council as far as exams are concerned, have also insisted that the answer scripts of candidates are true refection of their performance.
Some candidates were said to have shallow knowledge of the subject matter and examination techniques, as well as poor command of English language which is the official means of expression as regards the examination.
This reporter also gathered that apart from those who are weak in interpreting questions correctly before attempting them, some candidates equally write their answers in shorthand as is often used in Short Message Services (SMS) texts, while others have illegible handwriting and poor mathematical skills for subjects involving calculations.
Former executive secretary of the National Universities Commission (NUC), Professor Peter Okebukola, listed some other factors (direct and indirect) that could have affected the performance, saying that the perceivable retrogression was not totally unexpected.
The direct factor for the decline, according to him, is the poorer preparation of candidates for the examination this year when compared especially to the 2017 edition.
If candidates were better prepared, he argued, they would have achieved higher levels of performance.
What then are the indirect factors for the poorer performance? Okebukola said there are over 80 indirect factors that are linked to the direct factor of poor preparation.
He aggregated them into school and non-school clusters, saying the former is connected with students, teachers, the curriculum, facilities and curriculum delivery while the latter concerns the government, the parents and other external factors.
Okebukola, a distinguished professor of science and computer education, explained them one after the other.
"Take the student factor for example; many are not willing to read, and this has been confirmed by my latest research on reading culture among students in the country.
"They are only eager to read Facebook messages and watch home videos and pornographic films. When it comes to reading their textbooks, they do something else," he said.
Concerning the teachers, Professor Okebukola explained that many of teachers are incompetent to teach their subjects and therefore unable to prepare their students well ahead of time for WASSCE.
"This is apart from gross inadequacy of facilities for teaching and learning in most schools," he added.
Another factor is hinged on syllabus, which Okebukola believes is overloaded. This, he noted, often leads to the inability of both the teachers and students to adequately cover them before examination.
On non-school factors, the erudite scholar particularly blamed parents who he said often indulge their children in examination malpractices, which in turn leads to failure.
"The pervasive academic corruption in the educational system and the weak inspection and monitoring (quality assurance) of schools are the other causable factors for poor performance of students in exams," he noted.
Sharing similar view with Okebukola is both the national presidents of NUT and PTAN, Messrs Olukoya and Danjuma.
Both equally blamed the government, schools, students, teachers as well as parents for the problem, saying each of them does not contribute enough quota that could help the system work well.
Olukoya particularly blamed government at all levels for not committing enough resources to the education sector due to what he called lack of political will.
He identified inadequate infrastructure and teaching tools, especially in science and technical subjects; poor remuneration and welfare package for teachers and the supporting staff; non or low enrollment of children of top government officials in public schools, ineffective monitoring of school activities, among others as direct consequences of this ugly situation.
"That is why I am not comfortable with the way and manner this government is running the national school feeding programme. I laugh at times when government goes to the media to say it has spent so and so huge amount of money on the programme when in actual fact the amount is not in any way corresponding to the real situation on ground," Olukoya said.
On parents, the NUT president said many parents no longer complement schools' role again unlike the practice in the past, and yet they give flimsy excuses to justify their neglect.
On students, Olukoya said it is sad that the easy access to information and communication technology tools has made many students to abandon reading for knowledge, but instead are going to the internet to download materials they don't actually understand.
Alhaji Danjuma in his own intervention affirmed these claims in a separate interview with Tribune Education.
The Kaduna-based PTA leader told Tribune Education that, indeed, many students no longer prepare for examination let alone do well because their interest in reading useful materials has gone down drastically.
He lamented that students are instead busy surfing the internet for things like comics and pornographic materials that would not do them any good.
Alhaji Danjumo also noted that to make things worse, some students get to school late and leave before closing hours, while some don't even get to school at all, while parents who should have helped in that regard often neglect their parental roles for schools and teachers.
"What kind of results do we expect from such students if not poor results?" He asked rhetorically.
The PTAN chief also bemoaned the quality of facilities in most schools today, especially the government-owned schools, including teaching and learning equipment and materials.
According to him, more than 70 per cent of all government secondary schools nationwide are ill-equipped with infrastructural facilities, including science laboratories and workshops, tables and chairs and other items that could make classes conducive.
"Many of them are also facing dearth of competent teachers," he added.
Nevertheless, all the stakeholders believe that something could still be done to reverse the trend but would require a holistic approach to achieve the goal.
They said their desire is to see majority of WAEC's candidates from Nigeria performing brilliantly just like their Ghanaian counterparts, in the examinations.
To achieve this, WAEC said candidates must have a good understanding of each question, learn the basic rudiments of English language for better and clearer presentation of their answers, get the appropriate textbooks in all subjects and study them side by side with the examination syllabus and also endeavour to cover the syllabus before the commencement of examinations.
The examination body also believes that both the public and private schools should at least provide basic infrastructure and conducive atmosphere, as well as employ only qualified and committed teachers who will teach their subjects effectively.
For Professor Okebukola, the way out is for government to declare a state of emergency in the sector and involve all relevant stakeholders for the work.
He, however, said the Minister of Education, Malam Adamu Adamu is already going in that direction by coming up with a 10-point agenda for the sector.
Olukoya, on his part, said all that is needed to be done as a country is to go back and x-ray all the issues one after the other.
"WAEC too should contribute its own quota by organising free workshops and seminars for secondary school teachers to enlighten them on syllabus and examination rudiments," PTA president advised.
If all these suggestions are judiciously utilised, they said, students would not only perform well in examinations but also in future legitimate endeavours.