16-year old daughter elopes with her mum's husband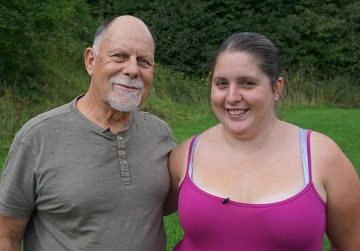 A mum whose 16-year-old daughter ran off with her 57-year-old husband today branded her "a monster" and claims she threatened to run her over in an Aldi car park showdown.
Ann Watkins, 54, was devastated when her daughter Sarah, now 28, shacked up with her husband David Hargreaves, now 69.
The couple allegedly admitted the affair in an explosive row in the family kitchen after Ann finally confronted her daughter on her long-held fears.
Despite her heartbreak, the mum-of-four offered forgiveness four years later when the pair had twins but the relationship soon soured.
Tensions came to a head in an Aldi car park in Ebbw Vale, South Wales last year.
Ann claimed to police that Sarah had threatened to hit her and had driven at her in a furious showdown.
Sarah denies the allegations.
Ann, who has another daughter called Tara, told The Sun Online: "I saw her in March last year when I was shopping for my elderly mother in Aldi.
"I came out of the store and saw Sarah with her kids in the car park. I thought about walking away but I went over.
"Sarah went crazy and started shouting and screaming at me like a raving lunatic.
"She threatened to hit me.
"With that, she got behind the wheel and revved the engine hard"
Ann later told police that Sarah had threatened to "run her over".
ALSO READ: Trump renews threat to close Mexico border
The mother also claimed her daughter drove her car towards her, leaving her terrified she was going to be hit.
Ann said: "I had a walking stick because I suffer from arthritis and a shopping trolley but somehow I just managed to get out of the way as it roared past."
Sarah, who this week flaunted her 41-year age gap relationship with her stepdad on TV, denies the claims and police took no further action.
The mum ­believes Sarah's affair with David began while she was away from home looking after her older daughter, Tara, who was having a baby.
It was in 2007 and Ann had travelled 50 miles from the family's Ebbw Vale home to be at Tara's side in Swansea.
But Ann did not discover the awful truth of her husband's affair with her daughter David's step-daughter until three months later during one of many rows with the teenager.
She said: "David would drive her everywhere she never wanted me to and friends and relatives even joked they were 'like an old ­married couple'.