I don't subscribe to consensus just to take out the ruling party —Ayorinde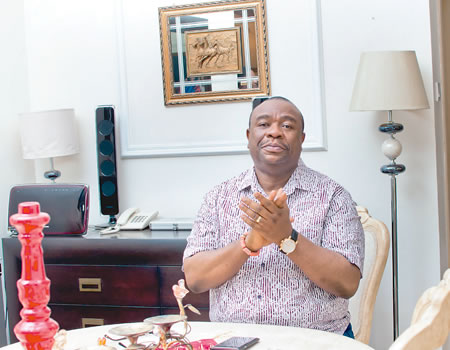 Chief Bolaji Ayorinde (SAN), a former chairman of the Legal Aid Council (LAC) and former pro-chancellor, Ladoke Akintola University of Technology, Oyo State, is contesting the governorship election in Oyo State on the platform of the Social Democratic Party (SDP). In this interview by YEJIDE GBENGA-OGUNDARE, he speaks on his ambition, coalition government and other issues.
What do you think is responsible for the upsurge in the level of discontentment in the country?
Inclusiveness is very fundamental in any democracy. Once you attain power and shut the opposition out and exclude even members of your own party who are not part of your inner caucus, you are bound to have tension in the country. No matter how well intentioned your policies are, they will be met by opposition because the people you govern are disconnected from you.
There is also the perception of favoritism and failure of government to have a uniform approach to its only objective, which is anti-corruption.
The security situation has also led to loss of confidence generally. Mind you, there is nothing personal in what I have said or what is going on in the country; it just happened that we need a total reset of our minds at this time in order to move forward as a country. In 2015 there was need for a change. In 2019 there is the need for a better change.
Why did you choose SDP as the platform to pursue your governorship ambition?
Firstly, the SDP has offered a fresh platform devoid of any baggage; it is a platform that will accommodate new ideas which we can use as a spring board into elective office.
Secondly, the SDP is traditionally a melting pot for progressive minded politicians. So if you look at the history of SDP right from the time of the late Chief MKO Abiola contested on the platform of SDP, the party is a natural home for progressive politics. We therefore welcome the opportunity
How confident are you considering there are several other aspirants?
We are confident in our capacity to emerge as candidate and I can assure you that unlike some other parties, the aspirants in the SDP party have a common front and approach. It is not a do-or-die. It is a contest of ideas where the eventual winner and candidate would also have benefitted from the ideas of others.
What would be your priorities if elected?
Our priorities will be Education, Primary Health Care, Agriculture and direct impact infrastructure. Oyo state can rapidly be the Educational hub of Nigeria and West Africa as a whole. We have 6 universities; we have all the major book publishers on one street in Ibadan. We have world renowned research institutes in the State. So, Oyo State can provide the platform for an intellectual base for the country. We can leverage on this for an educational policy that will see qualitative and affordable education from kindergarten or nursery stages to post graduate levels. On health matters, we intend to revamp the primary health program as structured under the late Professor Olikoye Ransome Kuti and other World Bank recognised programmes like the Abiye concept developed under Governor Olusegun Mimiko, former governor of Ondo State.
These programmes, with the help of the WHO, will surely have direct impact on the lives of our people.
Agriculture will also be given priority, so that not only will the residents of Oyo State have sufficient food, other states of the federation will also be able to plug into the success of our agriculture. I also mentioned direct impact development; we will avoid grandiose projects that do not have direct impact on the residents. We will encourage construction, repair and redesign of inner city and rural roads rather than expend money on building roads with ten lanes and bridges that go nowhere. We hope to bring integrity into government to achieve good and responsible governance.
Do you believe there should be a consensus arrangement among governorship aspirants to topple the ruling party in Oyo State?
Political alliances are very dynamic and you cannot rule out parties or candidates coming together. All politics is local, I do not subscribe to consensus just for the sake of taking out the ruling party. However, I strongly believe in a coalition that can form a unity government at the state level. What I subscribe to is not just a coalition of candidates or political parties, but a coalition that is determined to berth good governance and responsible government. I subscribe to a coalition that accommodates all the stakeholders and promote inclusiveness.
What are your thoughts on restructuring, fiscal federalism and devolution of powers to the states?
I am a strong advocate of restructuring. It can only lead to a better deal for our people.I think that there has to be a reset of our minds, firstly we should believe we own our resources, so that public property is given very strong protection by the people. Public property and the public wealth should not be seen as the belonging of the government but to the people, that is the beginning of restructuring. Then of course we have reached a situation in the country that the federal structure must be truly federal. There are too many items on the exclusive list and most of them should be ceeded to the state, For example I see no reason why we can't have state police. Other items like stamp duties, taxation, personal loan issue, business registration, broadcasting, library services, legislation on power distribution and generation; and so many others should be exclusive to the state. Concurrently, I would also like to see a strong Local Government System. Restructuring does not mean separation. We need to make the Federation workable for all.