Preaching by example: When Ifa Foundation changed Muslim boy's story for good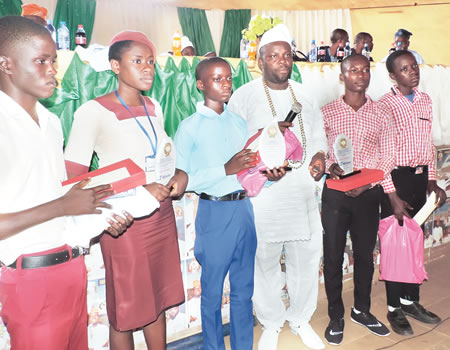 A turning point can come at any moment in life, in any form and through anyone. For Habib Yusuf, a Senior Secondary School Two student of Muslim High School, Iseyin, Oyo State, that turning point came on Saturday, 4 August, 2018 through the Fashola Oyinbo Ifa (FOI) Foundation, a non-governmental organisation with the objective of helping the underprivileged and preaching religious tolerance, founded by Chief Fashola Olusoji Adeyemi, the Aare Adimula of Iseyin.
The day had begun for Habib Yusuf like any other. In fact, he entered the Iseyin Town Hall venue of the second annual Fashola Oyinbo Ifa (FOI) Foundation Quiz Competiton among public and private secondary schools in Iseyin like the weakest. The reason for this was not far to seek. Unlike other contestants who were two from each school, Habib Yusuf walked alone. He was the only representative of his school instead of the two per school arrangement.
But when the competition started, with Habib Yusuf blazing hot in the competition which included questions in Mathematics, English Language, Current Affairs and Yoruba Language with a side attraction of talking drum interpretation, the popular saying that one with God is a majority rang true.
His performance and unassuming nature were to later move the founder of the Foundation, Chief Fashola, to deviate from the event's script of awarding plaques, educational materials and cash prizes to winners, to announce the institution of scholarship to cover Habib Yusuf's education up to the university level. According to Fashola, there was no plan for such announcement until he saw the brilliance and calmness displayed by Yusuf, a lone-ranger competitor, to outshine his contemporaries who had two representatives per school.
Commenting on Habib's success and the scholarship award, his father, Mr R.O. Yusuf said, "I am delighted with Habib's success," adding that the boy's success came from one of the most unlikely quarters. Mr Yusuf revealed how he didn't allow the boy to be discouraged by sentiments that he was attending an event organised by an Ifa priest.
For an elated Mr Yusuf, the success story of his son was a confirmation that religion should not be a reason for divisions in the society, as he said: "I commend Chief Fashola for the wonderful initiative and I pray that God continues to be with him."
In his speech at the event, Chief Fashola, who is the Oluwo Nla Awo Agbaye, called on well-meaning individuals in the society to rise to the task of supporting government in the area of education, noting that the quiz competition was his Foundation's little way of building a better society through education. This was as he charged Nigerians to eschew religious violence, noting that "it is only in an atmosphere of peace and unity that we can have progress and development. At the FOI Foundation, we have made a resolution to help others in the areas of education, medical and other challenges and to promote peace and harmony in the society."