Only Omisore can rescue Osun —Adesiyan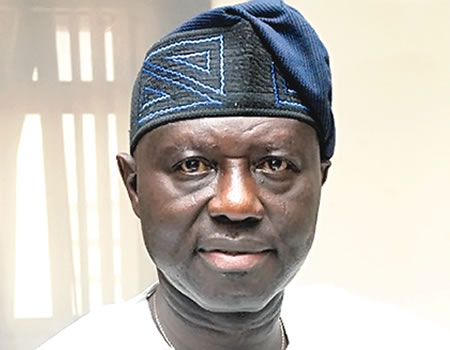 Former Minister of Police Affairs, Alhaji Jelili Adesiyan, who recently defected from the Peoples Democratic Party (PDP) to the Social democratic Party (SDP), in this interview by KUNLE ODEREMI, DAPO FALADE and OLAWALE OLANIYAN, revisits his role in the 2014 governorship poll in Ekiti State, then intense power tussle among influential politicians from the South-West and the buildup to next month's poll in Osun State.
Anyone who is a student of History will know that the setting of this country has a wobbled beginning, even in its political ideology, name and every other thing. At the time of the struggle for independence, Zik and Awolowo were in the Diaspora: Zik was in the US, while Awolowo was in England. Chief Awolowo wrote his first book in 1946, Path to Nigerian Freedom. He asked a friend of his in Britain to write the foreword. The man read through the book, reviewed it and said, 'this Awolowo man, you are in this country and you are writing this about us and you said you want freedom for your country'. At that time, it was known of Awolowo that he was born in an area that he was not supposed to have been born and his zeal of liberation was going to be the problem. That was why, at the attainment of our national independent, the Yoruba Nation lost the leadership of Nigeria because it was going to be a complete liberation. When he had the opportunity to rule the Western Region, if not for his free education programme, some of us may have not been what we are today. So, those who are now believing that they will manage the political situation, being the leaders of Yoruba, are just wasting their time. The northerner does not want the Yoruba; the easterner does not want anybody (they would have preferred to even align with the Yoruba). That is the foundation of the problems that we are having in this country today. I needed to go into this history for us to have a clear understanding of the problems we are faced with.
What then do you think is the way out?
Now as it is, the real Yoruba believe that the only thing that can solve the national problem today is restructuring where every nationality and every region will be able to tap into their resources and utilise them for the development of their people. They believe in having a centre that they can be paying taxes to. The only common thing the centre would have is the Residual powers, like foreign affairs and security. Even the police in the restructured Nigeria would be decentralised. Even, the typical university community in the US has its own police force with powers to arrest and prosecute. In the US, the state and the federal governments each have their police forces and they are co-habiting without any problem. If we have such an arrangement, may be our problems would have been solved.
As I am talking to you, the South-East wants restructuring. The people of the South-West want restructuring. The South-South people want restructuring. The people of the Middle Belt who are paying the heaviest casualties today in the body-politic wants restructuring. But the core North does not want restructuring because of the fact that, accidentally, the former British colonial power gave them such a power that they do not deserve. And that is the beginning of what is happening currently. Today, we have General Muhammadu Buhari as the president of this country. He does not believe in true federalism at all. If you look back, like a driver, using the rear view mirror, you will know that the president has done a lot of things which buttressed my stand.
When you have such a person who is politically attached to his religion and ethnic group, Nigeria cannot have any other thing except what we are having today. You know the history of Fulani: we have the Cow Fulani and the Town Fulani. The Cow Fulani are the Bororos that have strong attachment to their cattle, even much more than they have for their children and they wander all about. The Town Fulani, the stocks of Uthman Dan Fodio who are now the emirs of all these big cities in the North, by assimilation. The Habe Dynasty of the Hausa people is not known in Nigeria today; the Town Fulani have assimilated them, in religion, culture and even in language. The only thing the Hausa gained was the language. Because of their largeness, that Hausa language cannot be eradicated. Unfortunately for this country (I say unfortunately), President Buhari belongs to the Cow Fulani, with strong attachment to his cattle. When he wanted to contest election, he was asked, what are his assets? He said he has 150 herds of cattle, even though other assets that we know he has, he didn't declare them.
What are those other assets that you know?
Later, we got to know that he has a lot of estates in Abuja and he is collecting rents on them and some other things. I don't want to come to that now, but everyone knows that the president is not sincere.
How do you mean; do you have your facts?
Okay, we knew he has a lot of assets undeclared. He promised that he would declare his assets publicly by the time he assumes power and become the president of this country, but up till today he has not declared those assets…
At what point did you get to know that he has those assets?
I will say it was before and in-between when he declared his assets. I don't know him but those who know him waited for him. Then, we started hearing that he has one property somewhere in Abuja which is a big estate that he rented out. We also know that he didn't declare most of his assets by the lifestyle of his children; all of the children schooled abroad. We got to know by the lifestyle of his wife. He portrayed himself to be a common man who does not have anything. But, by their lifestyle, by what we know and what we are seeing of them, they are more than that. Just about some few months ago, his son had an accident on his power-bike. It might be a rumour but if you don't eat enough and have extras, you cannot afford to buy a power-bike anywhere in the world. Some people can exaggerate the price, but I know that a BMW power-bike is more costly than a BMW car, no matter the type or how strong the car is. So, why are we fooling ourselves? The children are schooling in the best ivy leagues in Britain.
When Senator Ademola Adeleke emerged the Osun PDP governorship candidate, you were reported to have jubilated saying that would be the end of the party in the state. You were in PDP for many years and even became a minister on the party's platform but suddenly left the party for SDP. Why?
What happened is this: I was in PDP. When we left AD because of the problem when they wanted to pin the death of the late Uncle Bola Ige on me and Senator Iyiola  Omisore, we had to leave because we felt we were no longer wanted in the party. Now, we have been vindicated because the leadership, especially Chief Bisi Akande, had a press conference in Lagos, sometime last year and he exonerated us; that it was all a frame-up. He specifically alleged that they know the killer and pointed fingers at Obasanjo. All the major newspapers reported Baba Akande then. The fact that we have been vindicated gave me a lot of joy. Though we went through the court process and we were discharged and Omisore was acquitted, yet, we had a moral dilemma. Sometime, when I was in detention, I will pinch myself and ask: How can somebody accuse me of killing Bola Ige, my political mentor? To me, he was never wrong till he breathed his last; I always followed his conviction. Until Baba Akande addressed the press, I could not easily mix with some of my friends because they had a wrong perception about me over the issue. Now, we were in the PDP and with all modesty, we were the main actors in the party, particularly in the South-West. We loved the party because it was not weaved around any personality. So everybody was ready to use any branch of the stem to climb the ladder. But we started having some misgivings. Governor Ayo Fayose is my very good friend; we played a part before he became the governor of Ekiti State: Musiliu Obanikoro, Omisore and I. Whether it is being exaggerated or not, we were the ones that sat down to plan his election. Election needs planning.
That means you were involved in the alleged hanky-panky that characterised his election in 2014?
No, there was no hanky-panky at all! I swear with my God.
But a top military officer was alleged to have been part of the shady deal?
They are lies. It is true that we sat down to plan for the election; we had discovered that some people were planning to infiltrate the state through certain routes. They were to bring some people from Ondo and Kogi. How do we stop these people from infiltrating Ekiti State for the election and allow the Ekiti people alone to choose whoever they want? As of the time we were planning, the APC too were planning on their part. For God's sake, can you go into an election without planning?  Can you go to war without planning?
But the belief is that you used the military and money to capture the state?
It is not true at all. I was the Minister of Police Affairs that time; why didn't I use that strategy to win the election in Osun State that concerns me most? It is when the people decide that they want to change a government, no matter how you plan to rig the election, the people will resist you. Already, some people are boasting that in the next month's governorship election in Osun State that they will use such extraneous factors to influence the poll. I know that the people of the state have made up their mind about where to go. No gun can stop them. No soldier can stop them. No police can stop them. No DSS can stop them. You can only do it successfully when you are in the average in terms of strength; it is not when you fall within ratio 70: 30. Fayose won that election by 16:0 score. We didn't rig the election. We sat down and planned how to thwart all the efforts of what they were trying to do; to stop them, from their plan to shortchange the people of Ekiti State. We left Ekiti after planning; I wasn't there during the election. So nobody can say he saw me during the election. So, I am warning those who might be thinking that they come to Osun to perpetrate rigging on September 22. They should stay clear of the state on that day because the people will resist.
Unfortunately, Fayose became the governor of the state and he lost all sense of decency; he forgot that the power was given to him by God and he became the lord unto himself. I was very close to him and liked him as a young man, not because he is governor; I have been with him and we started his governorship journey even in his first term. But I was disappointed when I knew that he doesn't want anybody out of the six states we have in Yoruba land to tower above him. When he became governor, the fear of Omisore became his problem and he has a further ambition and the only thing he could is to look for a way to stop Omisore from becoming governor of Osun State. He did it 2014 and worked with Aregbesola and Tinubu to thwart our effort and he is already working to stop Omisore again.
Where is the evidence to prove the allegation?    
Some people told me that he was already doing certain things to work against our governorship project. I didn't believe them because I am always with him when I visited my children in their school. He is a nice man as a person. But I keep warning him that I don't like the way he addresses the president of the country, Muhammadu Buhari. No matter what, I cannot be saying anything bad about the president of a country. If I don't like him, he will know I don't like him by my action, but I won't insult him. So on the 2014 election, I knew Obanikoro has since parted ways with Fayose. Omisore was with him too because Omisore knew that as an incumbent governor, he has some levels of power. But for me, I always checkmate him directly or indirectly.
When the news filtered that Fayose is planning to do what he did to us during the 2014 governorship poll in Osun, we kowtowed to him then, even when he stabbed us in the back in the past, we knew he still has that knife. So, somebody called me and Omisore that we have to be careful about our frequent trips to Ekiti because Fayose is working against us. I said I didn't know, until there was a problem in the Osun State PDP over who should be the state chairman. We had different camps and I belonged to the Omisore group of PDP in the state. My belief which was clear was that Soji Adagunodo should be the state chairman. I worked relentlessly for our group to adopt him, when the group was sharply divided into two. We wanted Omisore to become the governor. The other group was not interested in the governorship, so they wanted Adagunodo to become the chairman. So, ordinarily, a right-thinking person would say if you want to take the governorship, why don't you give this man the chairmanship? That was my position. It was open and not hidden at all. That's me. I will do whatever I think is right; I may be wrong sometimes, but within me, I would have been assuming that I was right even when I was wrong. My instinct would say follow that thing.
So, it is known to the two groups that Fayose said that he did not want Adagunodo to become the chairman because of the role he played in the Ondo State governorship election, while he (Adagunodo) was a plaintiff against the PDP. I went and pleaded with him that 'Soji Adagunodo is your friend and what is it being the chairman? Support him, even against Omisore's position'. Omisore knew about my disposition.
So, when my ears became so troubled because of what they said our friend is doing, I took Omisore to Abuja so that we could see Fayose in the Government House annex; myself, Omisore and Eddy Olafeso, who is the current chairman of the PDP in the South-West zone. We met the present treasurer of PDP. Just those names I have mentioned and, of course, a friend of Fayose was there. Every other person excused us. I took up Fayose and said, 'Governor, this is not what we planned. I heard that you are working against the interest of Omisore. That's why you don't want peace in Osun State. We are your friends, why should you be working against Omisore?' He said: 'Ah, who told you that?' I said it was an open secret. It was as if something descended on him. Omisore was there. He said 'Minister, let me tell you the truth, Omisore cannot make it; he can't be governor.' I was shocked. Omisore kept his cool, but I screamed, 'what!' Fayose said, 'Omisore can't make it because of all the controversies surrounding him in Osun State', and I said, 'who is going to make it? He said I should just remind him of those who are contesting election against Omisore. I started giving out the names and everybody just kept quiet looking at me. And I declared that all these people are in ratio one to 10 to Omisore. Thereafter, he asked if I had landed, I said yes.  Those people cannot beat Omisore; Omisore was there.
He said it is Demola Adeleke; the new senator that if not for Omisore, he would not have won. He said it was Demola Adeleke that we are going to use as governorship candidate in Osun. I quickly interjected: 'You and who. So, what people are saying about you is true'. I said 'you are more controversial than Omisore when you were coming back to claim this mandate. Remember they alleged you killed one Daramola and that murder case is still on. They alleged you used to put your oba in the booth of your car. How many times have you seen us doing such things in Osun State? The most controversial thing about me or Omisore is the accusation leveled against us that we killed uncle Bola Ige, which any right-thinking Nigerian knows we did not. Were we fighting him? What value will his being killed add to our life? I added that I am happy that Chief Bisi Akande has even cleared the air on the allegation. So, what is controversial about Omisore? I told him that 'your problem is that you wanted to become the vice president of the country and that was why the position of PDP national chairman that was zoned to the South-West you traded it off to the South-South, so that your vice presidential ambition can materialise.
'All of us wanted either Professor Tunde Adeniran or Chief Olabode George, or even at best, Chief Gbenga Daniel. That was the agreement of all of us in the South-West PDP; when we could not arrive at a consensus candidate, we called them several times to take one of them. But you singlehandedly connived with the people from the South-South, particularly with Nyesom Wike to install Uche Secondus as PDP national chairman. You are destroying the PDP and it will be recorded against your name in the future and that history will not be kind to you. Now, when you leave office and Omisore will become governor in Osun State, then he would be in a position to have a say. He won't behave the way you are behaving.' At that point, he stood up and said,' excuse me sir, I won't work against Omisore; I am just telling you what is on ground (plan)'. I asked him, 'what plan; are you not central to the plan?'
At that time, we left in annoyance. So, I called Omisore and said, 'if we should stay or remain in the PDP, I know the people of Osun State want you, but there will be a fierce competition that in the course of it all (I even told Fayose) that I feared that there will be blood (shed) and like he said, we are very controversial. The perception of the people, even when we don't know anything, is that Omisore and Jalo had gone to that place. If you want to remain with them in the PDP, I would not. I will rather step out of politics. What else do I want to become in life? Am I God?'
What informed your choice of SDP as the platform for the realisation of the ambition of Senator Omisore?
As it is today, SDP is like how the AD was then. SDP is the party of the Yoruba, but you people don't know. Politically, in Yoruba land, there is no voice that can rise above the Afenifere and we knew that the majority of the Afenifere leaders are in SDP, though they are now very advanced in age. For example, the SDP National Chairman is Chief Olu Falae. Before SDP can take any step, they would have called a meeting of the Afenifere and the group would decide on the direction to go and they would say that is the direction. Otherwise, we would have gone to the Accord Party because they are our people. They were even begging us to come, but do we want to do something against Yoruba when some people are fighting us? We have to run for cover and that was what informed the choice of SDP, knowing full well that it was SDP of the late Chief MKO Abiola that still remains till today. It is the only platform for the actualisation of June 12.
Another issue is the power of incumbency of APC, both at the central and state levels. What challenges does this pose for your party in the September 22 governorship poll in Osun State?
Some people have that fear. On the first, that is, power of incumbency, in politics, we tend to hinge more on this incumbency factor, forgetting that vox populi, vox dei (the voice of people is the voice of God).
Is that what happened in Ekiti State?
Of course, in the 2018 election, APC didn't rig the poll. How would the PDP have won when Fayose had driven many leaders out of the party? Dayo Adeyeye had left; two of the serving senators from the state left; the third is still in the PDP but the senator is not working for Fayose. All those staunch and influential members of the party in the state have been forced out of PDP. So, those left in the party in Ekiti State are supporters of Ayo Fayose himself. They can win party primary but they cannot win any general election. Look at the result of the Ekiti governorship election; the number of valid votes cast, if they want to rig the election, they would have imported a lot of figures.
Do you think your party has what is required structure-wise to defeat other parties in the September 22 election; you have mentioned ADP which people are trooping into?
Who told you people are trooping into the ADP?  At least, if the current online opinion poll is more or less a way to judge, Omisore is leading in the independent poll. That's the voice of the people. Besides, just visit the state; what is on the lips of everybody is that the only person who can rescue Osun now is Senator Iyiola Omisore; he has done it in the past. Even when he was a deputy governor, he helped workers, making them to realise all those things that they were denied of today. So those are the opinions of members of the public in the state. That is why the formal launching of our campaign will convince all and sundry that we are the party to beat in Osun. So, if anyone attempts to rig the election proper, Nigerians will cry out.