MUSWEN cautions leaders, restates commitment to Nigeria's diversity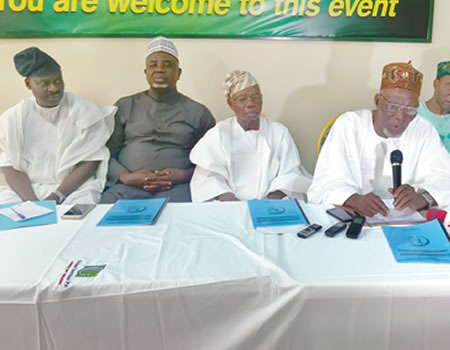 THE Muslim Ummah of South West Nigeria (MUSWEN) has reiterated its commitment to peaceful coexistence among the diverse peoples of Nigeria.
Against this background, the umbrella body for all Muslims in the South West geopolitical zone appealed to all Nigerians to rise above sentiments, religious or ethnic, and be at peace with one another.
At a "Special Press Conference," on Friday, in Ibadan, Oyo State, marking the beginning of activities to commemorate its 10th anniversary, MUSWEN implored all leaders in the various segments of the society to preach peace, saying there was not a more appropriate time than "this trying period in our nation's history" for Aleaders to be mindful of their utterances.
The press conference was addressed by the organisation's Executive Secretary, Professor Dawud Noibi. He was flanked by the president, Dr Sakariyau Babalola and other officers and members.
"Understandably, Nigeria has had several challenges as is common with countries with the size and ethno-religious diversity as Nigeria, In such settings, however, leaders in various segments of the society are to preach and demonstrate peace; they are not to spread falsehood or promote hatred," the body said.
ALSO READ: IGP monitoring unit arrests 12 suspects in Rivers
It repeated its call on all Muslim communities and organisations to mobilise all adult Muslims to register to vote in the forthcoming general election "and, to that end, collect their Permanent Voter Cards (PVCs)" before the close of the registration exercise Friday next week.
Since its inauguration in Ibadan 10 years ago, MUSWEN said it had been able to provide leadership for, and help deepen peace and unity among stakeholders in the South West.
The other key activities lined up for the anniversary, which has as its theme "Stronger Ummah, Greater Nation," include an international conference on Islam in Yorubaland, slated for Saturday, 6 October, 2018, in Ibadan, where the headquarters of the body is situated.
The grand finale, MUSWEN said, would hold on Sunday, 18 November, 2018, also in Ibadan.