Rally: Leave Ebonyi gov alone, PDP tells Oshiomhole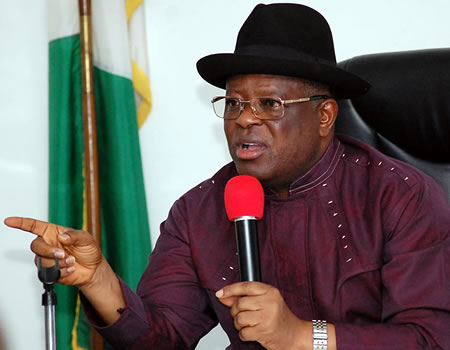 THE Peoples Democratic Party (PDP) has described as hypocritical and an unpardonable lie, the claims by the National Chairman of the All Progressives Congress (APC), Comrade. Adams Oshiomhole, alleging that there was a clampdown on the members of his party by the Ebonyi State Government.
It has advised the APC boss to leave Umahi out of his "failures."
The party said in Abuja on Sunday that Oshiomhole, "who has since turned himself into a laughing stock and a cartoon character among Nigerians due to his unabated unguarded comments since he was imposed as APC factional National Chairman, has now taken to fabrication of tales, symptomatic of a confused leader seeking to score cheap political points."
A statement issued by Kola Ologbondiyan, its
National Publicity Secretary aid
"Mr. Oshiomhole, who is reputed with great intolerance for opposition was reported to have alleged that his dysfunctional party, the APC, was locked out of the Ngele Oruta Township Stadium, which is currently undergoing reconstruction.
ALSO READ: Kogi National Assembly caucus petitions Buhari over insecurity
"This factional chairman forgot that it is on record that the Governor of Ebonyi state, Engr. Dave Umahi, in the spirit of accommodation which the PDP is known for, had graciously ordered the stoppage of work at the stadium to enable a faction of APC, who had earlier written him for permission, to use the stadium for their rally on August 4, 2018. The faction wrote again to shift their rally to August 11, 2018, which was equally granted by the Governor.
"Is it not therefore shocking, and essentially revealing of his character, for Mr. Oshiomhole to now allege that his members were prevented from using the stadium for an event, which they shifted to a future date?
"Perhaps Mr. Oshiomhole is still haunted by his dictatorial proclivities as governor of Edo state where he trampled on rights of citizens including traumatizing and bullying widows with his "go and die" verdict; preventing the plane carrying the wife of a serving Vice President of Nigeria from landing at the Benin Airport as well as stopping the PDP from holding its mega rally at the Samuel Ogbemudia Stadium in 2015. What he failed to realize is that such is not the way of the PDP.
"We know that Oshiomhole is just looking for excuses for his failed mini-rally in Ebonyi state, but he should leave Governor Umahi out of his failures, as he has nobody but himself and President Muhammadu Buhari to blame, for APC's misrule, which has made Nigerians be averse to them.
"Beyond the visible development in the state, Governor Umahi has carried all interests along and this includes the members of the opposition in the state. He should not in anyway be a part of the blame for Oshiomhole's failure to organize a mini-rally."