Dana Air gets 'Most Socially Responsible' airline award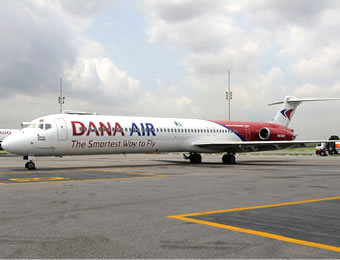 Nigeria's  Dana Air has been recognised as the most socially responsible airline at the 22nd League of Airport and Aviation Correspondents  seminar and awards held recently in Lagos.
The award presented to Dana Air was in recognition of the airline's contribution to the fight against sickle cell anaemia and cancer in Nigeria across the country since its inception in 2008.
The seminar and awards brought together stakeholders, airline operators, industry professionals, security agencies, aviation support service providers, and international airlines to brainstorm on the theme of a seminar titled: "Financing Aviation Development through Private Sector Partnership.''
ALSO READ: Be versed in basic issues that guide public governance, Ngige blasts 
The Media and Communications Manager of Dana Air, Kingsley Ezenwa, while reacting to the award said: "At last our CSR efforts and contribution to the fight against sickle cell anemia and cancer is being recognised by a credible body. This is the third award and we are happy that our media partners actually believe in our commitment to continually give back to the society. We thank LAAC for not only supporting the industry, but for being a credible watchdog.''
This is just  as  the airline has commended the Federal Government for launching a campaign against fake news in Nigeria, stating that the campaign was timely and in the right direction.