CUPP and its game-changing maneuver to oust Buhari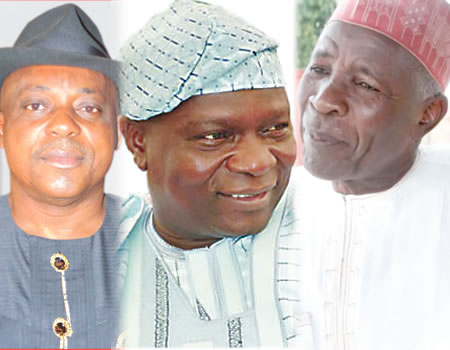 Deputy Editor, LEON USIGBE, reports on the coming together of about 40 political parties in a grand alliance to challenge President Muhammadu Buhari's second term bid.
The politicians came in their numbers, seething with anger and determination to do one thing – oust President Muhammadu Buhari, a common enemy whose administration they believe, has set Nigeria back several decades. Shehu Musa Yar'Adua Centre, Abuja, the venue of the meeting to form a grand alliance against the ruling All Progressive Congress (APC) was not easily accessible to traffic on Monday as political actors jostle to find space to be part of the epoch-making occasion.
It was the formation of the Coalition of United Political Parties (CUPP) by about 40 registered political parties led by the main opposition, party, the Peoples Democratic Party (PDP). More than half of the participants stood outside for lack of space inside. The enthusiasm of the crowd, their utterances, and responses to every speech suggested that they have had it and cannot wait to see the backs of the President Buhari in next year's presidential election.
Apart from the PDP, the parties that came together for the signing of the Memorandum of Understanding (MoU) are Action Alliance (AA), Alliance for Democracy (AD), Africa Democratic Party (ADC), Action Democratic Party (ADP), All Grand Alliance Party (AGAP), Action Peoples Party (APP), Advanced Congress of Democrats (ACD), Better Nigeria Progressive Party (BNPP), Democratic Alternative (DA), Democratic Peoples Party (DPP), Grand Democratic Party of Nigeria (GDPN), Green Party of Nigeria (GPN), KOWA Party, Labour Party (LP), Mass Action Joint Alliance (MAJA), and Masses Movement of Nigeria (MMN).
Others include: National Conscience Party (NCP), New Generation Party (NGP), National Unity Party (NUP), Nigeria Intervention Movement (NIM), Peoples Alliance for National Development and Liberty (PANDEL), Peoples Progressive Party (PPP), People for Democratic Change (PDC), Peoples Providence People's Congress (PPC), Reformed All Progressive Congress (RAPC), Restoration Party of Nigeria (RPN), Social Democratic Party (SDP), Unity Party of Nigeria (UPN), All Grassroots Alliance (AGA),  National Interest Party (NIP), Nigeria Democratic Congress Party (NDCP),  Progressive Peoples Alliance (PPA), and Young Democratic Party (YDP), etc.
The motivation for the grand alliance
The Secretary of the defunct National Caretaker Committee of the PDP, Senator Ben Obi, when he laid out the mission of the gathering, stated that it was to rescue the nation from imminent collapse. He said: "We are here to begin the process of forming a government that will take responsibility of the lives and property of Nigerians rather than what we currently have whose stock in trade is to blame whatever is at their reach for the woes and insecurity challenges bedeviling the country. Before they resort to blame innocent unborn babies for their failure, we must rescue the nation from their hands. That is why we are here. We are here to put an end to nepotism, ineptitude characterized by unbalanced federal character appointments with total disregard to the doctrine of Federal Character principle and usher in a government that recognizes the ethics and recipe of this country in the disbursement of federal appointments. That is why we are here."
The participants did little to hide the fact that President Buhari is the target of the coalition. As PDP National Chairman, Prince Uche Secondus, emphasized, the motivation for the landmark event is to remove Buhari from office and save the nation from abyss he and his APC are leading it to. "We have all witnessed all forms of intimidation aimed at suffocating democracy in our land, frame ups, arrests and total breakdown of law and order in some areas like Zamfara state where a Governor had to relinquish his Chief Security Officer status. Just last week, the APC conquest regime came up with Executive Order which all political watchers including civil society groups likened to Decree 2 of the military era. We know why they are doing this on the eve of a general election because they know the people have turned their back on them, but they want to retain power at all cost including cowing us down. But we cannot be cowed. If our heroes past had been cowed down in these historic events I just highlighted above, we would not have democracy or a nation today. We must stand up for the rule of law to prevail or posterity would judge us harshly.
Sending a message to the world
Chairman of the Reformed APC, Buba Galadima, who was arguably the star man of the occasion because of his closeness to Buhari, said the coalition is an answer to the question about whether there exists in Nigeria people of courage and integrity "to face the monster." As he spoke, his every word was cheered by the audience who he told that if other people know how much himself knows about President Buhari, they will would have long ago regarded the president in a different light.  He said if he were an adviser to President Buhari he would have advised him not to seek re-election, alerting that the APC has made plans to use public money for the coming election after accusing PDP of doing the same.
"My presence alone here signifies a lot. What we are about to do will send shivers not only to those on the other side of the coin but to the entire world. We are witnesses a significant event. Most diplomats and leaders of other countries of the world keep on wondering whether there are men and women of courage and integrity in this country that can face the monster.  This significant event that we will be witnessing here very soon is the answer to the outside world and to Nigerians. Let me say since we made a declaration of the formation of the Reformed APC, we have received unprecedented messages of support, solidarity from all over the world and I am confident that should we put our acts together, should we tag together, if we are fair to ourselves, do things transparently and bring up one man or woman, we will save this country, we will provide a future for our children and grandchildren.
Observers believe that even former President Olusegun Obasanjo has given his blessing to the coalition more especially as his man, and former National Secretary of the PDP, Prince Olagunsoye Oyinlola, played a key role at the event. In his capacity as the Chairman of African ADC, he asserted in his remark that the coalition which gave birth to APC before the 2015 election has failed, saying that the disappointment is a wake-up call. Oyinlola added: "I congratulate all of us for what is being achieved here today. A Memorandum of Understanding among more than 40 political parties in defense of democracy and its ideals is unprecedented in this country. It is a watershed in the quest to redirect the affairs of Nigeria. We all know that these are not the best of times for our country.
I am happy that from the very wordings of this MOU we are signing here today, the worst of cynics and critics would see clearly a determined resolve on our part to make Nigeria work. We are all here endorsing a commitment to working together in a CUPP to replace the present APC Federal Government with a new and acceptable National Unity Government in 2019."
Voting to single coalition candidates
In his remark, Chairman of the Social Democratic Party (SDP), Chief Olu Falae, observed that most Nigerians are depressed because of terrible conditions that now obtain in the country. His words: "As citizens of Nigeria, we are unhappy that our country is the way it is. I share that with all citizens. But my distress is two-fold. I will want my party to produce the next president. But the way things are; we cannot afford to dissipate energy. All our votes must go to the same presidential candidate, all our votes must go to the same governorship ca every state, all our votes must go to the same senatorial candidate in every senatorial district, all our votes must go to the same member of the House of Representatives in every state, all our votes must go to the same member of the house of assembly in every state and all our votes must go to the same governorship candidate in every state. Why? Because it is not sufficient to elect a president. The things the president needs to do, he needs the legislative branch. We need to restructure Nigeria and if he doesn't have the majority in the Senate and House of Reps, what can he do?"
N-PDP return an apology   
Former acting National Chairman of the PDP, Abubakar Baraje, who led a faction named new PDP out of the then ruling party to join in forming the APC, apologized on behalf of his group for going "astray," saying that having realized their mistakes, they decided to rush back home. He expressed gratitude that the PDP has received them back to their home.
Memorandum of Understanding
All chairmen of the 39 political parties involved in the coalition endorsed the document formalizing the CUPP and in doing so, they agreed among other things to work together in a Coalition of the United Political Parties (CUPP) determined to replace the present APC Federal Government with a new and acceptable National Unity Government in 2019, promote the emergence of a government that will usher in abundant peace, happiness and prosperity and ensure safety of life and property inside a truly and well-structured Nigerian Federation and ensure the emergence of a joint presidential candidate of which modalities for this collegiate process shall be under a separate agreement by the Parties.
Publicist deal
While political watchers think that the coalition is a game-changing maneuver that has become the most potent threat yet to the President Buhari's bid for a second tenure, his ruling APC has not seen much cause for concern. Its spokesman, Bolaji Abdulahi, in his reaction to the formation of CUPP observed that "it is noteworthy that some political parties that have been named as signatories to the MoU have dissociated themselves from the publicist deal. We are confident that no level of gang-up can make our government under President Buhari waiver in its promises to Nigerians to rid our country of corruption and improve the quality of lives of our people."
Despite APC's position, observers are of the view that once again, the nation's political landscape has been shaken up and realignment will now proceed apace in the remaining months before the 2019 general election.