Kolawole Scoop, industry giants chart new way forward in music distribution, promotion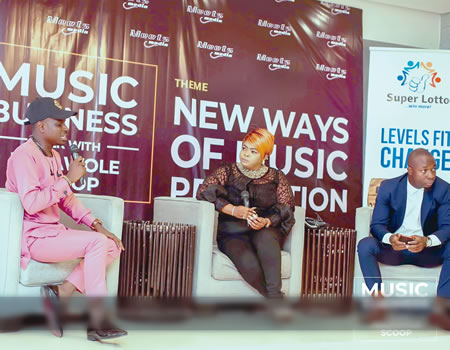 The much-talked music business talk may have come and gone but lessons and ideas shared by some of the entertainment industry's giants will continue to dwell in the minds of those who attended the maiden edition.
For weeks, the convener of the event and founder of Scoop  Media, Kolawole Sunday Omoboriowo combed every part of the South-West states preaching the idea in its raw form and making wide consultations with those who should know.
His dream is simply to chart a new way forward for business and promotion for Nigerian music stars.
In quick succession, Kolawole made a trip to Dubai and later, London to broaden his scope of the discussion that would shape the focus of many practitioners in the entertainment business.
ALSO READ: Govt wasted 3 years creating crises across the board —Saraki
On June 28, entertainment big weights gathered on Best  Western Classic Hotel, Victoria Island, Lagos State to discuss how to run and promote their business in ways that would ensure that their intellectual property yields proceed such that their lives, after music, would not be lived in penury.
With discussants drawn from movie, comedy, music, media and other fields, it was an eye-opening event that ticked all the boxes for many, especially the new music acts in the industry who are constantly looking for ways to get their songs out to the world.
Some of them described the epic event as one that would go a long way in helping to make the right choices and prepare their minds of the greater engagements in the future.
From DJ Neptune to soulful music star, Aramide; music- comedian, Kenny Blaq, actress and singer, Dayo Amusa;  blogger, Olorisupergal; comedian Woli Arole; Joey Akah; Oye  Akideinde; MC Lively; Demola Expoze; Uche Ugo; Dro Ameh;  Tosyn Bucknor; DJ Lambo; Bugwu Aneto-Okeke among others, the  event, according to those who attended,  lived up to  expectations.
Top of the discussion was the way forward for the music    industry and its urgent restructing to meet today's modern  way of music and business as they go hand-in-hand.
With the Afro beat genre of music sweeping over themusic  firmament across the African continent, concerns were raised  as to how the practitioners can catch in on the vibe and put  to good use their talents.
Also part of the discussion was the use of digital media,  which has greatly infleunced and enabled music promotions and  distribution, the panelist that comprised of Dayo Amusa, Woli  Arole, Kennyblaq shared their experiences and spoke  extensively on how entertainment stakeholders can make money  from the new trend.
The event was hosted by popular comedian, WhaleMouth and lady  Ariyike.