Faculty of law Unilorin orientates its student legislative members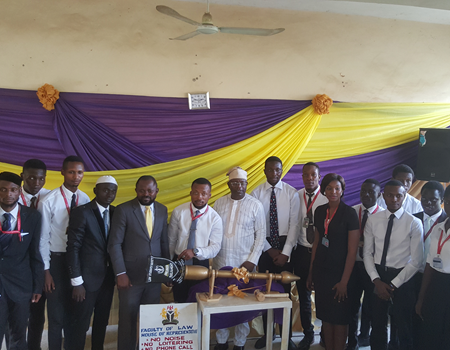 The Law Students' Society of the University of Ilorin has held its 1st public lecture and legislature orientation for its principal members and officers at the Faculty of law of the University.
The event featured the unveiling of the Law Students' Society Mace, presentation of an award to Hon Ali Ahmad and Hon Hassan Oyeleke.
In his address, the Dean of Faculty of law; Prof A A Oba, who was represented by the Sub-Dean of the faculty Dr (Mrs) Abdulrasaq, said that the public lecture is a good development and initiative especially at this period of a democratic dispensation.
ALSO READ: Better exploration of tourism sector will boost Lagos economy ―Obasa
She further commended the Students' parliamentarian for their assiduous effort and urged them to be good ambassadors.
In his own address, the Speaker Law Students' Society House of Representatives; Hon A A Amadi,  opined that students legislature should be heard and their views be given priority in any event of National policy implementation and legislation, especially the ones that border on the welfare of  Nigerian Students.
While Speaking at the event, the Speaker Kwara State House of Assembly, Hon Ali Ahmad who was represented by the House Leader of the Assembly Hon Hassan Oyeleke noted that the Students' Parliamentarian must restructure their core value to render selfless service to humanity.
While giving his vote of thanks the Deputy Speaker of the Law Students' Society House of Representatives; Hon AbdulKareem Abdulhamid expresses gratitude to the dean of the faculty, invited lecturers, the  Kwara State House of Assembly Speaker; Hon Ali Ahmad and as well the students' populace present at the event.