At international seminar, publishers take stock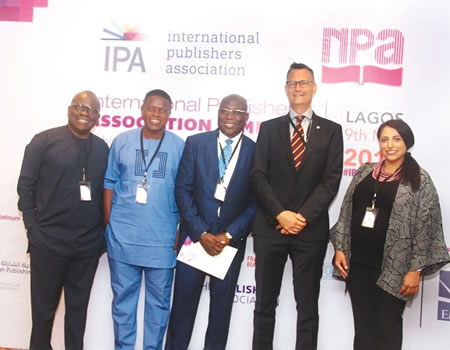 What's the state of affairs in African publishing? What contributions can it make to sustainable development? Answers to these questions and more were provided at a seminar jointly organised by the International Publishers Association and Nigerian Publishers Association in Lagos.
IT was stock-taking time for Nigerian publishers, their counterparts from across Africa and the rest of the world on May 9 at an international seminar, held in Lagos.
Jointly organised by the International Publishers Association (IPA) and Nigerian Publishers Association (NPA), the meeting at Eko Hotel, featured six-panel discussions that critically examined the state of affairs in African publishing.
Publishing in the 21st Century: The Socio-economic Contribution of the Publishing Industry in Africa; 'Strengthening Educational Publishing in Africa'; 'Bringing the Voice of African Writers, Publishers, and Content Creators to the World', and 'The Role of Technology in Overcoming Illiteracy and Promoting a Reading Culture' were some of the topics discussed at the conference with the theme Publishing for Sustainable Development: The Role of Publishers in Africa.
The other topics that a rich assemblage of players in the book industry discussed at the seminar held to coincide with the 2018 Nigeria International Book Fair were 'Addressing Freedom to Publish Challenges in Africa' and 'Enhancing Enforcement of Copyright and Intellectual Property Laws'.
For one, the robust exchanges at the sessions indicated the awareness of the players in the book chain to the prospects and challenges of their industry whilst also signposting their commitment to innovating publishing and revitalising it to meet immediate and future needs and challenges.
Speaking at the opening ceremony before the commencement of the intensive and sometimes heated panel discussions, NPA President, Gbadega Adedapo, stressed the importance of the seminar. The MD/CEO, Rasmed Publications Limited explained that not only was it overdue, but that rough estimates of Africa's publishing market say it is worth more than one billion dollars; there are more than 500 million book-buyers across the continent and because stakeholders haven't shouted enough about how important publishing is to the development of Africa.
For him, "African publishing has a good story to tell, but it's one that is not being told loudly enough and it is a story that is under threat." The NPA President also reiterated the importance of fighting piracy, noting that, "if we don't tackle the scourge of piracy, then, to quote Chinua Achebe: Things Fall Apart.  When authors' works are unprotected, when pirated copies are everywhere, when booksellers themselves are acting as pirates, then authors do not receive royalties and publishers do not receive sales revenue.  And that means Things Fall Apart; the centre of publishing cannot hold and anarchy is loosed upon our book world.'"
He reiterated that the conference was extremely important for the IPA, the African publishing industry and Nigeria because, "ever since the IPA held its Congress in Cape Town, South Africa in 2012, there has not been such an international landmark event that focuses exclusively on the socio-economic, educational and cultural contribution of the African publishing industry."
Adedapo expressed hope that participants would come up with suggestions on how to reposition publishing in Africa and ensure that the recommendation made translated into concrete actions.  "To this end, we believe that a blueprint will emerge from this seminar as the 'Lagos Action Plan 2018' which will help us in our respective countries and especially at the continental level to proffer solutions to our challenges and help measure our progress in the next one year," he said.
In his own remarks, IPA president, Dr Michiel Kolman, noted the rapid evolution in publishing brought about by digitisation, the rise in new technologies and changing global dynamics.  He said: "A thriving international publishing market goes hand in hand with active and dynamic local markets on each continent. China is driving innovation in artificial intelligence, while India is emerging as an attractive market for English-language publishers worldwide. And more than ever before do we see high-quality content coming from Africa – especially in the field of educational publishing.
"That is an excellent development as more than any other type of business, educational publishers directly contribute to better educational results. There is such a thirst for knowledge across the African continent that educational publishers want to play their part and go from strength to strength. Publishers are aware that there are many challenges, some of which African publishers can resolve for themselves. Others will depend on local cooperation. And some will involve international cooperation."
On copyright and related issues, Dr Kolman said: "I cannot emphasize more strongly the importance of a robust intellectual property regime – as well as its strict enforcement. IP laws protect the ownership of ideas, and as such provide a solid ground for research and innovation. For Africa to tap into its enormous creative and innovative potential, a dynamic and trustworthy intellectual property framework is absolutely essential. Next to protecting copyright, one of Africa's immediate battles is the fight against illiteracy. Success in our adult lives can often be traced back to just a few key characteristics in school. Learning to read from a young age is a crucial one. This seminar is about the voice of Africa – this is the voice we want to hear loud and clear today."
Some of those that supported the seminar and ensured that the diverse voices were heard loud and clear were Bodour al Qasimi, Sharjah Publishing City, the ambitious free zone in the United Arab Emirates, The Emirates Publishers Association, Emaar Properties, The London Book Fair, The Frankfurt Book Fair, The Norwegian Publishers Association, The American Association of Publishers and The Publishers Association, London.