Fayose, FUOYE VC in war of words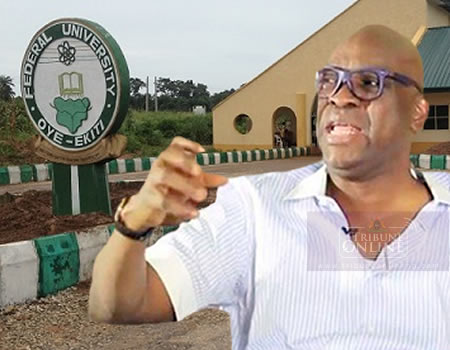 Governor Ayodele Fayose of Ekiti State has alleged that the vice chancellor of the Federal University, Oye-Ekiti (FUOYE), Professor Kayode Soremekun, is working in collaboration with the All Progressives Congress (APC) and the Independent National Electoral Commission (INEC) to rig the July 14 election in the state.
Governor Fayose alleged, while speaking with newsmen on Friday, that the INEC was plotting to engage FUOYE students as ad-hoc staff for the election, instead of youth corps members.
The governor said that the vice chancellor was a card-carrying member of the APC and a close ally of the party's candidate, Dr Kayode Fayemi, accusing him of rigging elections for the APC in the past.
Reacting, Professor Soremekun said: "What Governor Ayodele Fayose has accused me of is a blatant falsehood. In a post-colonial setting like Nigeria and especially Ekiti State, elections are like war and in any war, truth is usually the first casualty."