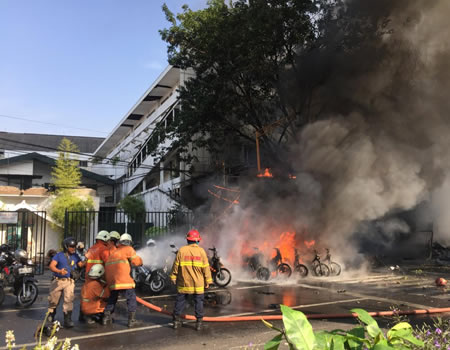 At least 13 people were dead and 40 others injured after a family of six, including children, carried out suicide bombings on three churches in the Indonesian port city of Surabaya on Sunday, police said.
According to DPA report, the family were believed to be among 500 Indonesians who recently returned to Indonesia from Syria, national police chief Tito Karnavian said.
"They were one family, including girls aged 12 and 9," Karnavian said.
The first attack, at the Santa Maria church, was carried out by two brothers, aged 18 and 16, he added.
The death toll included the six family members and seven others.
The State Intelligence Agency said an Islamic State-linked group, Jemaat Ansharud Daulah (JAD), was likely behind the attacks in the country's second-largest city.
The Islamic State terrorist group has since claimed responsibility via its news agency Amaq.
"They had planned to attack police targets on May 11 but because the police were prepared, they picked alternative targets," National Intelligence Agency spokesman Wawan Purwanto told Metro TV.
Indonesian President Joko Widodo confirmed that one of the suicide bombers had had two children at her side.
"These terrorist attacks are cruel and inhuman," the president said in Surabaya, after visiting victims at the hospital and inspecting the damage at the churches.
"There are no words to describe our sorrow for the victims of this act of terrorism," he said, urging Indonesians to unite to fight the scourge of terrorism in the country.
The first explosion occurred at the Santa Maria Catholic church at around 7:30 am (0030 GMT), East Java police spokesman Frans Barung Mangara said.
ALSO READ: Gunmen killed two persons in Benue
It was followed by blasts at a Pentecostal church and a Protestant church, he added.
Television footage showed a mangled motorcycle believed to have been used by a suicide bomber at Santa Maria and burning vehicles outside a second church.
Members of the police bomb squad were also shown trying to defuse what appeared to be an unexploded device outside a third church.
"I was sitting at the canteen in front of the church when I heard a loud explosion," Endang, a worshipper at Santa Maria, told Kompas TV.
"There were a lot of people at that time. I saw dead bodies and people injured," she said.
Indonesia's two largest Islamic organizations have condemned the attacks, saying they went against the basic tenets of Islam.
In a separate development, police said they killed four suspected JAD militants and arrested two others hours before the church attacks.
The four were killed in a gunfight with police in the town of Cianjur in West Java province at around 2 am on Sunday (1900 GMT Saturday), national police spokesman Setyo Wasisto said.
They were suspected of plotting an attack on police targets, he added.
Aman Abdurrahman, an alleged leader of JAD, is currently on trial for a 2016 attack in Jakarta that killed eight people, including four militants.
Sunday's blasts came four days after inmates killed five police officers during a revolt at a police detention centre near Jakarta. One militant inmate was also killed in the uprising.
Indonesia, the world's largest Muslim-majority country, has been hit with a string of attacks by Islamist militants since 2000, when 18 people were killed in coordinated attacks on churches on Christmas Eve.
Christians make up about 10 per cent of Indonesia's population of 260 million, making them the largest religious minority in the country.
Police have also frequently been targeted by attackers following a crackdown on Islamist militants in the wake of the 2002 Bali bombings, which killed 202 people.
PHOTO CAPTION: Firefighters try to extinguish a blaze following a blast at the Pentecost Church Central Surabaya (GPPS), in Surabaya, East Java, Indonesia