Rare Edge celebrates 100th episode of Awon Aladun De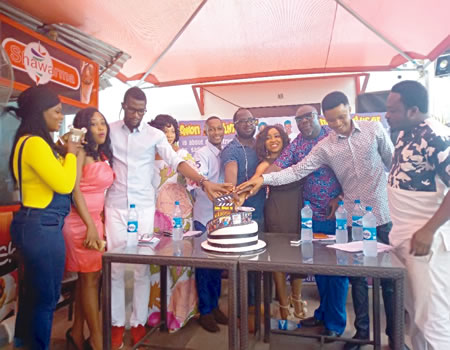 At a period that the lifespan of sitcoms is on a rapid decline in Nigeria, as many loses flavor due to a dearth of fresh ideas and consequently get rested when it holds no appeal for the audience after two or three seasons, the 'Awon Aladun De sitcom' continues to wax strong as it celebrated its 100th episode and premiered its third and fourth season together, last weekend, in Ibadan.
'Awon Aladun De' is a situational comedy from the stables of Rare Edge media which explores the daily struggles of a typical middle class family in Nigeria in relation to their challenges, joy, sadness and relationships. It is a television situational comedy with real life experiences that mirror the struggles and realities of family life in a culturally grounded Yoruba family.
The Adun family continues to give life to situations that every family can relate with especially one with growing children and parents with different aspirations, beliefs and ambition at this particular period in the life of the country and the characters are good interpreters of the role given to them. To ensure that 'Awon Aladun De' continues to remain fresh and relevant, the founder of Rare Edge, Adeleye Fabusoro, a media entrepreneur, whose focus is on a corporate service brand that provides a dynamic range of services focused on broadcast production for many genres says that his outfit will continue to introduce twists that will maintain freshness without compromising the basic theme and plot of the sitcom.
He explained that part of the twist is the introduction of extended families into the sitcom, adding that the third and fourth season will in addition to the introduction of television act Babtunde Oladimeji and comedian Tunde Ojobaro known as Mr Rain, delight audience with the refreshing experience of two veterans; Ebun Oloyede popularly known as Igwe and a darling of the movie industry, beautiful Jaiyeola Kuti whose ability to perfectly interpret roles has made her a force to reckon with.
Fabusoro added that in addition to expanding the cast, the sitcom will now feature scenes shot outside the home to explore the relationship and interaction of members of the Adun family with the outside world, in order to avoid monotony and boredom.  The elaborate premiere of the new season of 'Awon Aladun De' is billed to attract a larger followership while ensuring that people continue to learn from the Adun family and get entertained in the process.