We want to match skills with knowledge —Professor Salami, vice chancellor, The Technical University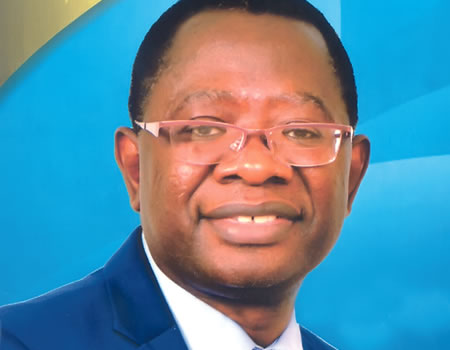 Professor Ayo Salami is the pioneer vice chancellor of the Technical University, established by the Oyo State government. The university is the first of its kind in the South-West. During a courtesy visit he paid to the Tribune House recently, together with some members of the pioneer management team of the institution, he explained the uniqueness of the university, and what it sets out to achieve.
LAOLU HAROLDS presents excerpts.
Why another university?
You might be asking: What is Technical University all about? We have over 100 universities in Nigeria. We have universities of technology, universities of agriculture. Is there any need for another university, particularly in Oyo State, particularly at this point when the resources are not there, and when there is crisis within the education sector? Why should Oyo State venture into another university? Can they actually fund the university? Is it actually necessary? These are the kinds of questions that can agitate our minds. With crisis in the Ladoke Akintola University of Technology (LAUTECH), and with many tertiary institutions not having enough funds to run, is it really auspicious to have another university? These are legitimate questions.
However, let me say that part of the reasons for the creation of this university is to deal with these issues. Why do we have crisis in the tertiary education sector today? We have that crisis because we have a system that is dysfunctional. We have a system is that is producing products that are not fit for the market. What the market needs is not what the tertiary education sector is largely turning out every year.
According to a World Bank survey, the last time I checked, we were told that the tertiary institutions in this country are increasing the unemployment market with two million youths every year. You can see we are sitting on a keg of gunpowder. When you have youths – able-bodied men and women – who have labored, who have struggled to go to institutions for four, five years and they don't have anything doing. Why are we now surprised that the rate of crime in on the increase?
Now, what then do we intend to do? There can only be progress in any country when skill is matched with knowledge. When you look at countries that are progressing in the world, it's not only the countries when they have the knowledge, but where they couple knowledge with skill. When there is disconnect between skill and knowledge, you cannot really have progress. And in this country today, we have a gap. We have people who have the knowledge but it doesn't translate to skill. There is progress when policy is translated to products; when theory is couple with knowledge.
Our unique offering
Number one: when we bring in students, our normal lecturers, PhD holders, professors are going to teach them theoretical aspects; but the practical aspect, which has been lacking, we are going to get professionals on the field who are actually practicing in the industry to come and train our students practical skills – are the ones who will conduct the exams, not our regular staff that taught them the theory. And in designing our curriculum, we are not going to design what we think the industry needs; we want to know from the industry, what to they need? And after knowing what they need, we are not going to run it; we want to partner with them to run it. That's why we're bringing them in. So that by the time you go through, you already have the skill that the industry requires.
But apart from that, in West Africa we have 16 countries. Five of them are Anglophone, 11 are Francophone. Look at Nigeria; who are our neighbours? Republic of Benin, Cameroun, Niger. We have no single Anglophone neighbor. What does that mean? Go and check out in international organizations like World Health Organisation, World Bank, FAO, ECOWAS, European Union, African Union, when you look at job placement there, by the sheer population of Nigeria, we ought to have more representation in these organizations than we are having.. But what do you see? You see more people from Republic of Benin, Togo and Cameroun; why? It's because they are bilingual. They are forced to learn English out of survival instinct; but we believe we are big enough, we don't need French. And for that reason, when they now graduate, and there is job advertisement in international organizations, they are prepared for the international market, while we are only producing for the Nigerian market. So, you now find out that we are not really competing; our graduates are not prepared for the global market. So, we want to prepare our graduates, not only with skills but for the international market.
When you come to Technical University, you must pass through our Centre of Language and General Studies; and no only will you do that, you must go through immersion programme – which means you will have to go and live within the French community either in Cotonou, Lome or we have to partner with the Alliance Francais, the French Village in Badagry to organize that; and we do that within the first two years. So that at the end of your second year, you're already bilingual. And if you're not bilingual, even if you have First Class in your main degree, we cannot give you a certificate of Technical University; so that when you now finish, not only can you apply within Nigeria, you also have the advantage of competing globally.
Faculties
We're taking off with two faculties: (these programmes have been approved as 'take-off' programmes) Faculty of Engineering and Technology. Here, these are the programmes we have: Agricultural and Environmental Engineering, Biomedical Engineering, Food Science and Technology. When you look at Biomedical Engineering for instance, it's not available here yet now. In many of teaching hospitals, equipment are going bad; there is nobody to maintain them because we don't have biomedical engineers in this country. Then we have Electrical/Electronics Engineering, Mechatronic Engineering, Mechanical Engineering, Petroleum Engineering.
When you now go to the Faculty of Natural Sciences, we have Microbiology, Industrial Chemistry, Physics with Electronics, Computer Science, Cyber Security, Software Engineering, then Mathematics and Statistics.
Apart from Centre of Language and General Studies, we have Centre for Entrepreneurial and Vocational Studies. What do we do in this place? I've said you have to be bilingual to graduate. Also, before you graduate, you want to sign up as a student of Technical University, you have to register for two vocational trainings. For those vocational (trainings), we are not bringing lecturers; we'll bring artisans who are actually doing it; and we're going to make sure they are well paid. By the time they are Part 3, your supervisor must certify that indeed you're certified in this. So, within your first three years in the university, you must be certified in two vocations; and we award you a certificate. So, apart from your degree, you have certificate in two vocations. We'll now ask all our students in Part 3 to write business proposals for startups and we look at the best among them, we invite the Bank of Industry, through their SME programme, to support them, and we are going to serve as guarantor for them because they are still under our tutelage, and watch them for the next two years before they graduate; so that by the time they finish, they already have confidence.
So, my vision as the pioneer vice chancellor of this university is that no graduate will come out of Technical University and be roaming the streets.
Funding
Now to the issue of funding; it's not a conventional university. The government is midwiving it, but it's going to be a full fee-paying university. This university is not going to depend on government subvention. We are going to generate fund to pay our staff from the fees and charges we collect.
For infrastructural development, of course we are a government institution we can go into international partnership, endowment. We also have access to TETFUND (since we are a government university), endowment, collaboration, grants, and so on. And we are going to pursue these vigorously both locally and internationally. We are going to partner with both private and public sectors; and we are going to look at public sector that believes that we are adding value to them, and we are going to enter into mutually beneficial collaboration.
How soon are you admitting students?
By the grace of God, we want to bring in the students to our campus this October 2017.
Students don't see technical and vocational institutions as first choice institutions because there is already an inbuilt inferiority complex for which the government itself is partly responsible (through lower admission requirements). What can be done to turn this around?
I think it's not about what we can do to turn this around but about what We are doing; and I dare say that the Technical University is actually one novel idea, one unique step to actually solve that problem. Cast your mind back to the seventies, there were technical colleges; and I can't think of anybody who graduated from technical college and was jobless. But now, we have this concept that if you are not a graduate you are not respected. Because of that we lost all the potential; people who should have developed their potential through these technical outlets, we bury them in the university, and they are loaded with theoretical concepts and when they get out of the university, they are not useful to themselves, they are not useful to the society, they become a nuisance to everybody.
Most of the technical colleges and polytechnics you spoke about were ideals in those days. But along the line, distortion in the policies occasioned by political expediency defeated the ideals. How will you insulate Technical University against similar distortions, being a state university?
The Bible says if the foundation be destroyed, what can the righteous do? When you see anybody deviating, or any organization going away from the plans, look at the foundation. I am not a politician; I'm a technocrat. If you go by politics, I would not be in this university. Senator Ajimobi is the governor of the state, but I want to tell you that to the best of my knowledge, he doesn't play politics with Technical University. He has passion for it and he wants it to be a legacy that he will be leaving behind; and this university is being grown on politics. And that is why I believe the product of the university will speak for itself. We want to work in such a way that anybody who wants to deviate from the vision, it's the people themselves that will say no, this one, leave it the way it is.
Will the governor still be the Visitor to the university?
Yes.
What is the nature of this arrangement?
Let me say that because it was established by government, the governor is the Visitor; and that one is perpetual. But when you look at the role of the visitor, by the act setting up the university, the roles of the visitor are defined. President Muhammadu Buhari is the Visitor to the Obafemi Awolowo University or University of Ibadan, how much of involvement does Buhari have in those universities?