Gani Adams lauds Awolowo for cultural–tourism insight •Bags Culture Promoter of the Year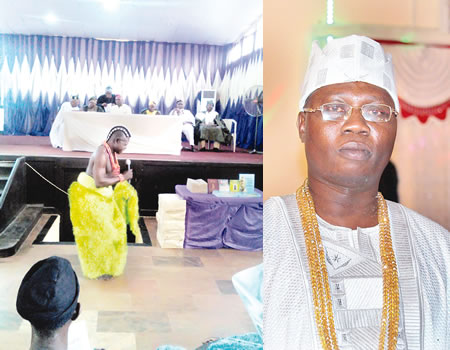 The National Coordinator, Oodua Peoples' Congress, OPC and Global convener,  Oodua Progressive Union, OPU, Otunba Gani Adams has lauded Chief Obafemi Awolowo for "possessing an indescribable insight into the potency of cultural- tourism initiative in building up a nation"
Otunba Adams pointed this out in his speech while receiving an award "Yoruba Unity Culture Promoter of the Year "bestowed on him by Yoruba Unity Foundation, which held its maiden  inaugural lecture delivered by Professor Duro Adegboye, Chairman and Chief Executive Officer, Gospelcon, Offa, Kwara State    at  the House of Chiefs, Government Secretariat , Oyo State, Ibadan.
In the speech read by Mr Misu Jabal, OPC, Oyo State Defence Officer, Otunba Adams said "Chief Obafemi Awolowo, the legend and the sage had a great insight into the revolutionary potency of culture. He was the one who stoked this potency to initiate and set in the minds of his contemporaries, associates, friends and Yoruba scion a socio-political consciousness that has elevated the Yoruba race above others "
He pointed out "The formation of Egbe Omo Oduduwa in 1948 in London by Chief Awolowo was a turning point in the history of Yoruba race as a nation and worthy race and also kindling of a never experienced before socio-cultural – political consciousness in the race"
Otunba Adams further said "what Chief Awolowo saw was never seen by his peers. What Chief Awolowo conjured in his mind, was never thought of by any of his contemporaries. He raised the bar of cultural affinity from just being a chord of existence to a potent instrument of mental liberation, economic development, intellectual emancipation and social intergration"
He reflected "It was the bar which Chie Awolowo raised cultural affiliation to which ensure the birth of liberation organisations in Nigeria".
Otunba who commended the initiator of Yoruba Unity Foundation, Prince Peter Kola Bamigbade for " the coming out with a foundation seeking to ensure unity of the race and for holding the event at the right place , in the same venue where Chief  Awolowo was publicly pronounced and accepted as the Leader of the Yoruba. An event superintended by the Late General Adeyinka Adebayo , the then Governor of Western State and an event attended by Yoruba of different political and religious shade . "
He revealed that "For me, I have committed my life to the promotion and protection of the cultural – tourism integrity of the Yoruba. I will defend it anywhere it is being trampled upon legally and constitutionally as circumstances dictate. It is not that the Yoruba are coward, it is because, we are master at winning any war with strategy, logic and tactics "
The organiser of the event blessed the inaugural lecture with exciting cultural display and dance staged by Arole Hubert Ogunde, who sang, danced and dazzled guests with all the late Hubert Ogunde's Yoruba inspiring songs and lyrics.
Great was the event that Chief O Ayorinde, Baale of Ekotedo, Ibadan said "This is one of the best historic socio-cultural – tourism events in recent years. It is of no politics. The message is clear, utilising the cultural- tourism heritage of the Yoruba to unite the race. Kudos to the organizer "