Badoo: Churches on red alert in Ikorodu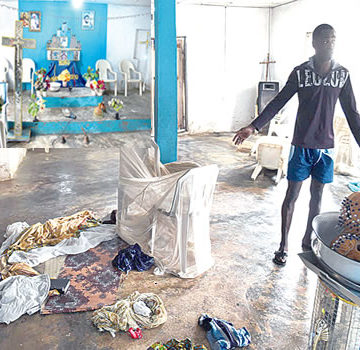 The cult-related killings in Ikorodu, traced to the deadly Badoo group, has had a telling effect on church services and members' attendance. As security agencies continue with efforts to bring the situation under control, RITA OKONOBOH and SEGUN KASALI report the consequences the Badoo cult group killings and the counter measures by residents, on the church, and efforts by the Christian community.
When Mr Adewale Gbolagade chose to manifest the blessings of God in his life by building his house at Ikorodu in Lagos State, nothing could have prepared him for the present state of affairs – he had become a fugitive in his home. He lives in constant fear as each day passes, as the attacks by the cult group, Badoo, continue. Nowadays, it is not just the fear of being attacked by the cultists, there is also the fear of falling victim to jungle justice by residents of the community.
When it comes to church matters, as he narrated his experience to TribuneChurch, his eyes darting around cautiously, Gbolagade has chosen to change the rules of movement for his family. Henceforth, no more church services that last beyond 5pm. On some special occasions, no church services at all. Vigils are totally out of the question, unless the service takes place outside the area and the attendee was not expected to return till well after dawn the next morning.
For Mr Matthew Akinwunmi, he has stopped attending evening church services totally. When the killings struck too close to home, he stopped attending church services. Before now, he used to come home during weekends after work for the week, during which he devoted Saturday evenings and the better part of his Sundays to church activities. However, from his experience, he said he had no choice but to move out of the area eventually for the time being. He told TribuneChurch that he explained to his pastor the situation of things and he had to take the decision in the interest of his security.
Another Christian, who preferred anonymity, said after he was accosted very recently by the security men in his neighbourhood as he returned from a service late at night, he had no choice but to stop attending church services on some occasions.
This is the situation for many Christians in Lagos areas that have felt the dreaded impact of the cult group.
In early July, the Crystal Church of God, located at Owode Onirin, Lagos, became the sad abode of blood-stained clothes, drums, bibles and hymn books scattered across the floor of the church, as they had been visited by the Badoo group. The incident resulted in the murder of four worshippers.
As the tension continues to mount in the area, TribuneChurch felt the pulse of the Christian community, in the effort to determine steps taken to take charge of the situation, in the interest of dwindling church membership and insecurity of lives and property.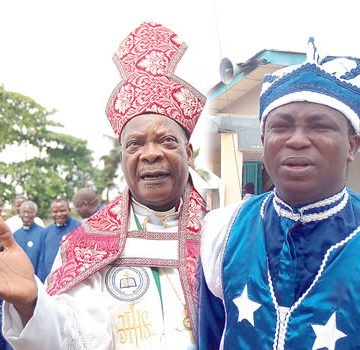 Let members defend themselves –CAN
Chairman Christian Association of Nigeria (CAN) South-West zone, Archbishop Magnus Atilade, speaking with TribuneChurch, stated that the churches in Ikorodu were on red alert.
"What we have done is to send an alert that everybody should be vigilant and prayerful. We are taking security measures and we cannot disclose all our strategies. For instance, during services, we will have people on guard because we believe in the principle of prevention being better than cure.
"We have told our people to defend themselves. There is nowhere in the Bible that states that people cannot defend themselves. We have deliberated on the security station and have agreed to put our people on alert. No matter how long it lasts, good would eventually triumph over evil. We will see the end of this. We hope that the government which is in charge of securing the lives and property of people will wake up to their functions. For instance, there should also be security personnel at night on guard.
"Also, more should be done on community empowerment. We should empower communities to be able to enforce close monitoring of their environment. Those who perpetrate evil don't live in the forest; they live within these communities. People, who find themselves idle, should also be monitored," Atilade stated.
'We are taking precautionary measures'
Reverend James Akinadewo of Motailatu Church of God, while affirming that the church had members, some of whom were landlords, who lived in the areas that have felt the impact of the killings, said: "They cannot leave their houses but they are taking precautionary measures. Late-night movement has been restricted. Since they have to stay indoors, attending vigils are also movement-dependent. Even when attending church services, they are conscious of time. I get invitations to minister in churches there and I pray for them and advise them to be conscious of their environment and strange faces. We have also spoken with church leaders on security tips. We know that God is in control."
Divine intervention will restore normalcy to Ikorodu –Prophet
The Prophet-in-Charge, Celestial Church Of Christ (CCC), Opeyemi Parish, Prophet Michael Adewale, in his reaction said the ongoing onslaught in Ikorodu area had drastically reduced the congregation of his church, alluding to the fear of being harmed by the cultists. According to him, members had fled to cohabit with relatives living in other areas of the state.
Expressing his thoughts on the security of members, he said that the most vibrant security guard in the whole universe is God, adding that "With God, I believe that my members will be secured and everything will work together for their good.
"Due to this current happenings in Ikorodu, members that initially fled out of the area now attend church programmes on Sundays only."
He called on Christians to utilise the weapon of prayer, noting that with that, the recent killings would be a thing of the past.
"In terms of revelation regarding this issue, God says Christians should continue to pray day in and out and be assured that divine intervention will surface and, consequently, normalcy will be restored to Ikorodu," he stated.