100 secondary school leavers get free vocational training
As part of its annual youth empowerment conference, a non-governmental organisation based in Ibadan, Human of Substance Empowerment Initiative (HOSEI), has given free vocational training scholarship to 100 youths that just graduated from public secondary schools within Ibadan metropolis, to learn a vocational skill of their choice for six months
The October 6, 2021, HOSEI annual Youth Empowerment Conference marks the eighth edition, making it 800 youths that have befitted from the organisation's empowerment initiative aimed at discouraging young people from engaging in social vices like prostitution, internet scam and other vices out of idleness or in a bid to make ends meets by encouraging the indigent youngsters to engage in entrepreneurial projects that will enable then to pay their bills and further their education.
The President of the organisation Barrister Abiade  Olawanle Abiola said many of their past beneficiaries now have own striving businesses and some have become the breadwinners of their families in spite of their young age and the fact that many have risen to the challenge of sending themselves to school and taking care of their younger siblings.
She added that some of the new set of beneficiaries is siblings to others that had enjoyed the process before, reiterating that HOSEI had succeeded in giving scholarships to households.
She added that, "since we started years back, it has been a success story. We thank God for how far we have come. We are happy that HOSEI has been able to touch the lives of hundreds of youths and give them financial independence with the help of good people who opened their businesses and sacrificed time and efforts to push this dream. We are getting better by the year and we intend to do more.
"It is my belief that if we allow these young ones to move around aimlessly while awaiting admission, we will make them vulnerable to cybercrime, prostitution and other vices. We want them empowered so they can be financially independent to shun vices," she stated.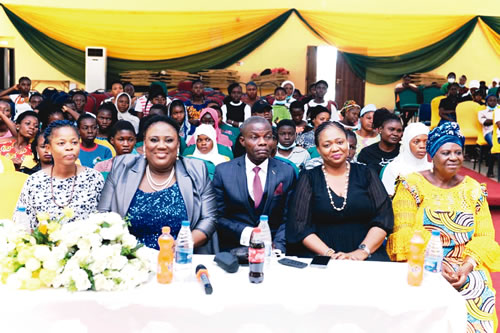 The 100 students who were selected on a first to arrive at the event basis were selected from thousands of  fresh secondary school graduates that participated in the annual conference of the association and the six months learning period is expected to be a time of rigorous mentoring and free vocational training in diverse crafts courtesy of the Human of Substance Empowerment Initiative (HOSEI), as part of efforts to empower them, put them on the path of financial independence and consequently, develop the community.
The youths who were selected couldn't hide their enthusiasm and appreciation of the opportunity given to them during the empowerment conference held at the Nigerian Bar Association, Afe Babalola Bar Centre in Ibadan.
The empowerment was in line with the vision of the founder of HOSEI that in order to reduce the number of youths that are vulnerable to peer pressure and crime, everyone must have a way of making ends meet.
Indeed, the adage which says that an idle hand is the devil's workshop is about to be put to shame in the lives of the 100 teenagers as their fortune is about to change in the space of six months; teenagers that have no known skills, now have the required ability to stand on their own and become employers of labour are about to start a life-changing journey rather than waste their time engaging in irrelevant and unproductive activities while awaiting admissions into higher institutions of learning.
Parents of the lucky beneficiaries could also not hide their joy that their children are being given the opportunity that could lessen the financial burden of school fees by the time they gain admission.
Abiade's vision is to give as many youths as possible a chance not only to dream but to also pursue their dream and rewrite their own stories in a way that will set them on the path of independence. HOSEI further gives youths improved access to resources and transformed their consciousness, beliefs, values, and attitudes with the "I can and I will" attitude which allowed those that could not stand up for themselves develop confidence to stand tall. And for these young people, it is a journey on a new path to a new life.
YOU SHOULD NOT MISS THESE HEADLINES FROM NIGERIAN TRIBUNE
We Have Not Had Water Supply In Months ― Abeokuta Residents
In spite of the huge investment in the water sector by the government and international organisations, water scarcity has grown to become a perennial nightmare for residents of Abeokuta, the Ogun State capital…