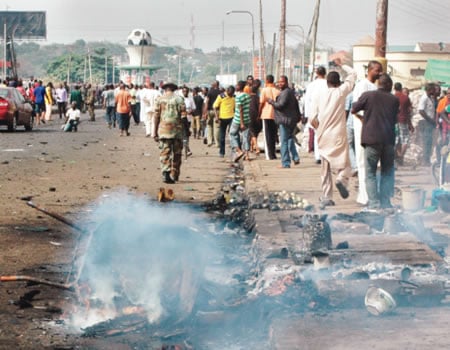 OGBE-IJOH/ALADJA communities in Warri South West Local Government Area of Delta State on Tuesday went after each others throat as violence erupted, allegedly claiming a soul and three others injured.
Nigerian Tribune gathered that violence with the aide of guns broke out at about 9:30 p.m allegedly from Ogbe-Ijoh community as youths engaged their colleagues in neighbouring Aladja.
One person was feared killed and three others injured in the ensuing melee among the youths.
The two neighbours have been on each other's throat for years over boundary land dispute which has defied permanent resolution with the state government playing the ostrich.
The Tuesday violence led to pandemonium as parents scampered to withdraw their children and wards from school.
Some women group also blocked the entrance to Aladja community due to sporadic gunshots from the area.
ALSO READ: 24 hours after Okowa brokered peace, Ogbe-Ijoh, Aladja renew hostilities
Former President of Aladja community council, Hon. Tabuko Kabedje, who was spotted rushing one of the injured victims to the hospital, told newsmen that Ogbe-Ijoh people were the aggressors.
According to him, "Ogbe-Ijoh and Isaba are attacking us."
Meanwhile, a source said that the people of Aladja allegedly drew the first blood, on Sunday, last week.
Speaking on the violence, Comrade Austin Ozobo, president of the Ijaw Peoples Development Initiative (IPDI), frowned on the renewed violence.
According to him, "Aladja/Ogbe-Ijoh clash this morning, several injured. There has been claims by Ogbe-Ijoh, accusing Aladja of invading them this morning with guns."
He condemned the seemingly endless attacks by both communities, accusing Governor Ifeanyi Okowa of not doing enough to stop d unlawful killings and incessant invasions by militia groups from both communities.
He accused Okowa of playing politics with Aladja/Ogbe-Ijoh communal war, saying, saying "he pays less attention in curbing this barbaric crisis, he should know that no politics is worth the blood of citizens of d state."
The police public relations officer of the Delta State Police Command, Mr Andrew Aniamaka could not be reached, but the state government had, last December, disclosed that the white paper issued by the committee set up to look into the feud has earned both communities that once the white paper was implemented, security forces would be moved in to enforce it.