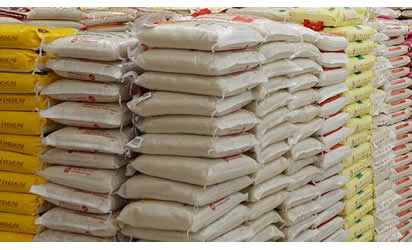 THE Ministry of Agriculture and Rural Development has said that over 1 million tons of rice are currently on the waiting at the Benin Republic to hit the Nigerian market through the land borders this festive period.
This development is coming at the time the Nigerian government is working hard to encourage Nigerians to patronize locally produced rice which it said is if more nutritional value than its foreign counterpart.
During a stakeholders' consultative meeting on illegal importation of food items into Nigeria, the Minister of State for Agriculture, Senator Heineken Lokpobiri said the rice which is on the waiting to be smuggled into Nigerian is not been consumed in the Benin Republic because it is parboiled.
The Minister, however, explained that the Nigerian government had not banned the importation of rice, instead, he said that every rice imported into the country must be subjected to test by relevant bodies to ascertain the health status of the rice.
According to him "what is more disturbing is that the Benin Republic do not eat parboiled rice, the over 1 million tons that we are saying that are in the Benin Republic, are not meant for them, they don't eat it, it is meant for the Nigerian market, and they know the economic implication on Nigeria."
"And I think it is only we that can save Nigeria, that is why the Federal government have directed that everything should be done to stop smuggling, we start with engagement, if the engagement fails, we go into coercion, because every government in the world has the primary duty to protect the interest of its people."
Senator Lokpobiri, therefore, said that the government is taking measures to draw more farmers into rice production through provision of farm mechanization, quality seeds, fertilizers and other farms inputs to upscale rice production in the country to satisfy local demand.