NITDA to harmonize data collection, sharing among MDAs to ease e-Governance implementation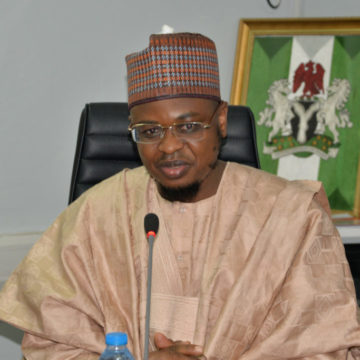 THE National Information Technology Development Agency (NITDA) has revealed its plans to make data sharing less cumbersome by harmonizing data collection and sharing among Ministries, Agencies and Departments (MDAs) which will give way for the successful implementation of e-Governance in MDAs.
Speaking at a Stakeholders Workshop on Draft Nigerian e-Governance Interoperability Framework (Ne-GIF), the Director General of NITDA, Isa Pantami, noted that applying information technology (IT) for governance holds tremendous potential to improve the way governments deliver public services.
He also said that seamless exchange of Information between various MDAs' IT infrastructure and applications is critical to cross-portfolio service delivery and public service transformation.
The NITDA Boss further said Nigeria as a developing country has her own share of good experience of e-Government or ICT adoption for streamlining and improving governance.
"Such good initiatives where Nigeria has recorded success in using ICT to drive government policies include Treasury Single Account (TSA), Integrated Personnel Payroll Information System (IPPIS), Government Information Financial Management Information System (GIFMIS), Bank Verification Number (BVN), e-Taxation, e-passport, e-wallet for farmers among others.
"The implementation of TSA and IPPIS/BVN saves Nigeria N4.7 Billion and N20 Billion respectively every month and assist in the elimination of ghost workers in various MDAs," he noted.
Pantami, however, said due to the complexities in Nigeria in recent times, cumbersome e-Governance system will not help to ensure service delivery among MDAs, hence the need to harmonise data collection and sharing among MDAs becomes imperative.
"However, the Nigerian government is becoming more complex and wide-reaching than ever before and citizens believe and expect that public services must be delivered effectively and at speed.
"Silo e-Government systems would not help Government deliver public services efficiently. Advanced phases of service innovation cannot be achieved without integrating many back-office functions.
"For instance, registering a Limited by Guarantee Company in Nigeria requires a visit to at least three institutions: CAC, FIRS, and Attorney General of the Federation physically and/or through their portals.
"This is inefficient, inconvenient, time-consuming and makes citizens pay more. Through robust e-Government applications, It is possible to make the transactions and get the service delivered on a single portal.
"Citizen-centered service delivery involves breaking up silos, integrating across agencies, innovating new ways of doing business, and creating a service-focused culture," Pantami added.
He further stated that "It has been proven that one of the strategic directions for e-government is to adopt a Whole-of-Government (WoG) approach for deriving expected value from IT."
He explained that "WoG involves back-end offices re-engineering, consolidation and integration of business processes across government agencies to deliver effective and consolidated services through the front-end offices at an affordable cost.
"WoG is a deliberate path to attain Government Digital Transformation (GDT) we desire. GDT views Government as an entity by promoting the idea of One Government but still respect individual MDA's mandates while providing government digital services."