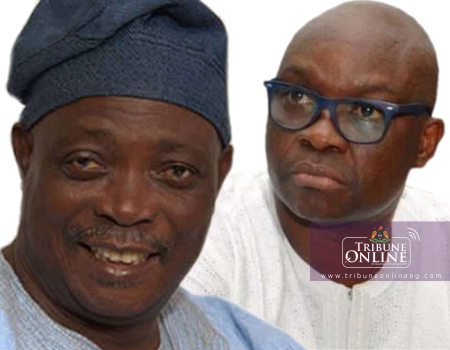 A former governor of Oyo State, Rashidi Ladoja, on Saturday, paid a visit to Governor Ayodele Fayose of Ekiti State and declared that no one in the Peoples Democratic Party (PDP) should stop Fayose from contesting the presidency in 2019.
Senator Ladoja, who also disclosed that he was already preparing to return to PDP, a party he left during the 2007 election, said Fayose had the right to contest for nation's number one seat, noting that he was "eminently qualified to contest for presidency in 2019 and no one should stop him."
According to the former governor, "Governor Fayose is a go-getter. Whatever he sets his mind to achieve, he goes for it and he gets it. He is eminently qualified and possesses all the leadership capabilities to rule Nigeria and take us out of the woods."
He said "some people in the PDP have said that they have zoned the presidency to the north, but it is left for Fayose to convince the members in the PDP to support him for his presidential ambition. He is fit for it judging from his antecedents as a quintessential leader in the country.
"I also want to advise the party leadership to use zoning of the presidency in a way that would guarantee the PDP winning the election in 2019 and not as a way of favouring some individuals who may not be ready for the job."
The ex-governor who hinted that he was already packing his load and returning to the PDP, also told the All Progressive Congress (APC) in Ekiti to perish the thought of taking over power from the PDP in 2018.
"Fayose has performed well in governing Ekiti. There is no governor in this country today who can beat his chest two times and say my state came tops two consecutive times in National Examination Council (NECO). Fayose  as a political enigma cannot be uprooted in Ekiti based on his good governance, transparency and the good projects he is embarking on in the state. I, therefore, advise APC to forget Ekiti in 2018,  as Ekiti people would not like to leave Fayose for the need to continue his good works."
Speaking about his state and the chances of PDP in 2019, Ladoja accused current governor Abiola Ajimobi of "causing confusion with his newly enthroned 'obas'."
He said that the governor knew that he had lost popularity and relevance in the state," that is why he is causing confusion."
Ladoja  therefore, expressed confidence that the PDP would take over power from APC in Oyo in 2019, saying: "Ajimobi had lost relevance in Oyo, especially with his obaship confusion project that was doomed from the start. So, I can confidently assure you that we will take over power from him in 2019."