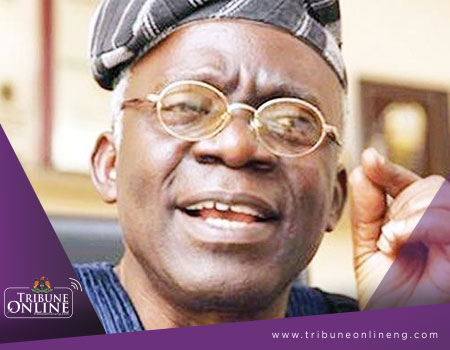 A Senior Advocate of Nigeria, Mr Femi Falana, has accused the Federal Government of failing to tackle Fulani herdsmen, who have been accused of killing defenceless farmers, as it should.
The Lagos-based lawyer made the claim on Friday when he appeared as a guest on Channels Television's breakfast programme, Sunrise Daily.
"I think we are chasing the shadows as a people and the government is simply taking Nigerians as a bunch of jokers. It is not rocket science to solve this problem.
"I am bothered when leaders come out to make statements that give the impression that we are either out to cover up serious criminality. The killing of any human being in any part of the world is a serious matter," he said.
The issue of clashes between herdsmen and farmers, Falana said, is a problem Nigeria has been confronting for over five years and many have died in the process.
"We have been in this problem for five years running and nobody is addressing the problem. In 2012, according to the global terrorism index, 1,229 people were killed. In 2014, we lost about 1,300 people. Benue State alone, between 2013 and 2016, lost about 1,800 people.
"This government knew this problem before it came on board. It was part of its campaign. The government has to take Nigerians seriously," he said.
Falana, who is also a human rights activist, said the phenomenon where people take cattle around the country is not Nigerian culture but a recent development. He said ranches once existed in North and Southern region of Nigeria and it is an important way of solving the recent herdsmen and farmers' clashes in the country.
"We don't need to go far to learn how to keep animals in this society. It is primitive to take cows from Sokoto to Calabar. That was not the practice in Nigeria. In 1951, we had the first ranch in Cross River known as Obudu Cattle Ranch. Now it has been converted to Obudu Resort. The late Ahmadu Bello established the Mokwa Ranch. The Obafemi Awolowo government in the 1950s established Akunnu Ranch now in Ondo State. I was asking Governor Rotimi Akeredolu some days ago about what he was going to do in Akunnu Ranch and he assured me that they were going to revive the place.
"The late Adekunle Ajasin of old Ondo State established a dairy farm in Ekiti. What do you expect the government in Ekiti State to do? Is it not to revive the dairy farm? But what did they do? Implement an anti-grazing law. Just two days ago, a pregnant woman was killed in Ekiti. It is the height of primitivism to kill a pregnant woman anywhere in the world but you can be sure nothing will happen. In the Western Region, the late Obafemi Awolowo brought in a species of cows from Argentina which was locally bred and people had animals but they are now extinct.
"Nobody was entering anybody's farm but now there is desertification and the animals have got to move and if you are taking a cow from Sokoto to Benin or Enugu, because of cattle rustlers, the herdsman has to be armed, the cow will feast on someone's farm and then rape will be committed since the herdsman hasn't seen his wife for three months but this is no longer done anywhere in the world.
"This was not our culture. Where people take cattle around the country, it is not our culture, it is a recent phenomenon. No animal was destroying anybody's farm until recently.
"Nobody will be wasting his time enacting anti-open grazing law if we have ranches. We don't need to go far to learn how to keep an animal in this country. Taking cattle from Sokoto to Lagos grazing is primitive," he said.
Lamenting over the increased number of deaths due to farmers and herdsmen's clashes, he said the killing of anyone, whether Fulani or Benue, is criminal and should be jointly condemned by everyone.
"The right to life is the most basic fundamental right because you need to be alive to enjoy other rights. So, why are we trying to single out killings by these bandits?
"Don't talk about Benue people have been killed, Fulani people have been killed, let us agree as a nation that the killing of any citizen or foreigner in our country is an assault on our collective morality," Falana added.