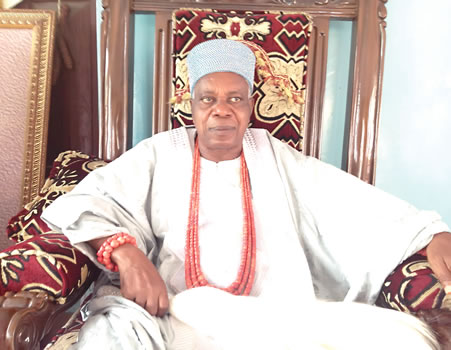 Oba Emmanuel Adesanya Aladejare, Agunsoye II Obalufon Alayemore is the Alaaye of Efon Kingdom. In this interview by SAM NWAOKO, he speaks on a number of issues relating to his domain.
Efon Alaaye is said to be gearing up for a book presentation. What is the book all about and what informed its writing?
The community intends to present the authentic history of Efon Alaaye from its founding to present. The title of the book is "Ooni Obalufon Alayemore: the Founder of Efon Alaaye Kingdom." A broad-based committee is in place for the presentation of the book fixed for November 4, 2017.
Efon is one of the ancient kingdoms in Yoruba land and in the first instance, this Alaaye is the first Oba in this kingdom that has western education. There's no text of history, no codified source of the history of Efon which we could point to and actually, this has been my objective as the first educated Oba in this kingdom and we have to do it as a legacy. We've been doing a lot of projects in the town and we now want to leave something to the people; something they can lay hands on. We've been on it for nine years and we've only just concluded it.
Some people refer to your community as the "London" of Ekiti, because of the level of communal development. Some see it as spiritual. What's your take on these attributes ascribed to Efon?
It's a combination of spirituality and the industry of our people. They are forward-looking and you find them all over the world, thinking about the development of Efon. For example, if you find two Efon sons, they might be fighting at home but once they meet outside, they become the best of friends. They collectively defend the interest of this community and promote its interest as much as possible.
Some have said it is the influence of Apostle Joseph Ayo Babalola of the Christ Apostolic Church (CAC) fame, claiming that he did a lot for Efon when he was here. Do you also hear this?
That's why I said the development in Efon is because of a combination of spirituality and industry. When we talk about Baba Apostle Babalola, he came to Efon when Agunsoye I, my grandfather was the Alaaye. When they started a crusade at Ilesa, a message got to Agunsoye 1 that this preacher was saying "Olorun Alaaye" (the living God).
He became interested and said "this man calling a name that is close to mine should be invited." Apostle Babalola came to Efon and he was housed in the first storey-building in this town, built by my father. That's where they prayed and held vigils and so on. My father, who had so much spiritual powers, such that he was said to be capable of transforming into a lion or elephant and so on, decided to be baptised. He dropped all the magical powers he had, he was baptised and was given the name: Solomon. He encouraged other members of the community who had such powers to surrender them and all these were burnt. Baba Babalola prayed for this town. It is through the grace of God, his prayers and the industry of our people that we are able to reach the level of development we have now.
I say this because when you look at the topography of Efon, being on a hill, and the location of the town in a corner compared to other towns in Ekiti State, you'll see that we are really not in a position to compete with others for particular amenities. For example, when we were fighting for the creation of Ekiti State, it would be mere illusion for me to say 'give us the state capital.' When the thing was to scatter the entire project, I was the one that saved the day when I said we have to look at centrality. Why everybody wants the capital was because of what benefits they would derive. I told them that we have already developed a blueprint for the development of the state when created and as far as this is concerned, we must use what we call "even spread" in terms of the development of the state. That was the argument I advanced on that day to really save the day, and that's why we have Ekiti State today. I didn't ask for the state capital on that day because I knew what's right and what's wrong and there was no point fighting for what you couldn't attain.
In the book you talked about, what are those things you want the people to learn about the history of Efon Alaaye via a vis Ile Ife?
Ile Ife is the source of Yoruba. The entire Yoruba nation drew their source from there. They moved in different direction. Oduduwa is the great progenitor of the Yoruba nation and the first Ooni of Ife was Oduduwa himself, followed by his surviving eldest son, Obalufon Opopodirin. At the demise of Obalufon Opopodirin, who was the second Ooni, the son, Obalufon Alayemoore became the third Ooni of Ife. During that time, his uncle Oranyan was on sojourn in Oyo. On hearing about the demise of his brother, he decided to return to Ife and to avoid crisis in Ife, Obalufon Alayemoore decided to move out. Along with some nobles, friends, priests, wives and so on, they settled in several locations before finally settling in Efon Alaaye. This was around the 10th century.
After the demise of Oranmiyan, who was the fourth Ooni of Ife, Ife elders came to persuade Obalufon Alayemore to come back to Ife. So, he went back to Ife as the fifth Ooni. But before leaving for Ife, he installed his eldest son, Odundun Orankun as the second Alaaye. I am the 46th Alaaye of Efon. My grandfather came on the throne in January 1917 and passed on in December 1935.
One of the issues that have always cropped up in our constitutional development is a role for traditional rulers. What is your take on constitutional roles for traditional rulers?
We have been part of several meetings articulating the case for role for traditional rulers. When I came on board in 1991, there was a conference which led to the convening of meeting of Obas in Yoruba land at Ibadan. I presented the case for old Ondo State. We wrote a memo on that which we presented. There's consensus among the traditional institutions that there must be constitutional role for them. Before the advent of the Europeans, the Obas had been the ones in government administering these various kingdoms. As a result of that, they are the custodians of the culture and tradition of the people, but you can understand why the political class is very reticent about this, probably because they feel they want to compete with them one way or the other. That is why we are still negotiating the structure of the country. At each point in time, we raise our own views to the world that: as custodians of the people we are administering, they live under us, we interact with them on a daily basis; when it comes to the issue of provision of amenities and so on, it is the Obas that articulate the needs of the various communities, not the government. So, it's an abnormality that no role has been assigned to traditional rulers. We will continue to articulate this until the right thing is done.
What amenities do you think Efon Alaaye should have had which are not available yet and those things you've done through communal effort?
We thank God for the journey so far. The community seems to have been forgotten for a long time before the coming of this administration. In the first instance, right now we have Efon Local Government. In fact, the local government had been here since 1952 when the self-government under Chief Obafemi Awolowo was in place.
For some reason, in 1976 when they wanted to reform the local government system, against the recommendation of the commission by one Permanent Secretary from the Western Region at that time, they took the capital from here to Aramoko and people were so furious about this. You must have heard about "republic within a republic". That was the time the people said 'we were not going to fight anybody but we will refuse to cooperate with government'.
They did not participate in the election of councillors; they didn't pay taxes to government; they were paying the salaries of the Oba and chiefs. They fought and fought. What they succeeded in getting was a local administration which was still a sub-set of Ekiti West Local Government at that time.
So, the first thing I did was to articulate the case for an autonomous Efon Local Government. When we were agitating and campaigning for the creation of Ekiti State, I took the Efon Local Government case on board; why we carried the case to Abuja and by the grace of God, that's why we have Efon Local Government on the day Ekiti State was created.
We used to serve as the gateway for Ekiti, starting from Erinmo through there to Ado Ekiti. But for some reason, because of some political manoeuvrings of that time, during the administration of General Adeyinka Adebayo, they just redirected the route from Efon to Ijebu-Jesa and Itawure. So, Efon became a cul-de-sac. When I came on board, that was one of the things I faced. I can't remember how many trips I made to Abuja, the Ministry of Works, meeting the President. I even caused the president to visit Efon when he came to pay a maiden visit to Ekiti during the first coming of Governor Fayose, he came to visit this place as well. The journeys I made to Abuja cannot be less than 50 times, working for the construction of Efon – Erinmo road. And by the special grace of God, in 2009, this was granted and today, you can have a smooth ride from Iwaraja, through Erinmo to Efon.
That is one of thise things that were done at that time. Although, for example, there was only one customary court at that time, even before the creation of the local government, we succeeded in getting a chief Magistrate's court in Efon. And after the creation of Ekiti State, I also succeeded in getting a high court of justice sited in Efon Alaaye here. These are things that had eluded us, government has tried to help in some regards. But if there's nobody to articulate the needs of the community, there's a limit to what government can do. If you're not in government, nobody is going to remember you. That is the philosophy of people generally. That underscores the reason why traditional rulers should be given constitutional roles. If these roles are given, there would be a legal, constitutional forum where you can articulate the interest of your people rather than talking to people behind the scenes to do this or that.
What are you doing in the area of tackling ecological challenges or in attracting investment in the community?
In terms of the erosion control problem, Efon is very hilly and erosion is a major problem. During the reign of my predecessor, during the Babangida era, there was money for Phase 1 of erosion control in Efon. When I came on board, I followed up with Benin-Owena River Basin Authority and the Federal Government and we succeeded in getting N25.2million. There's a gully which divided the old part of the town into two. That money was spent in making erosion channels. So many lives had been lost before, so many houses had been lost, you were not able to come from one side to another, especially in a vehicle. You had to descend into the gully and come up at the other side. We have been able to do that. Also because of the topography of Efon, we have erosion in several places. So, we had to continue. When President Obasanjo came on board, we started pressing for control of erosion in this place and we succeeded in getting N1billion from the Obasanjo administration, which took care of about nine gullies in this town. So, to some extent, the problem of erosion has been ameliorated but, you know, it's a continuous process because other gullies are still developing and we are working on how to get these ones in place too. As for gully erosion, we have been able to substantially tackle this problem. We have a lot to do.
In the area of industry, when I came on board, I constituted a number of committees: One on Education, one on Industry, one on Ecological problems and so on and so forth. But before you can talk about investment, there must be the proper infrastructure where you can move goods and people, materials and men from one place to the other. So, the second phase of the Efon -Erinmo road is to put another layer on the road and they've just started that now. So, when that is completed, we are now trying to encourage our people to come home, form companies and so on. We want to take our destiny into our hands because we discovered that in the history of this place, when it comes to education, it is the community that has been in the forefront of what we have been able to get. There has been a kind of healthy competition among the religious bodies. Once the CAC started the CAC Grammar School in 1960, the Catholic Church followed with its own; the Anglicans followed with their own and then the community itself started one. This is the kind of competition that this community has been using to develop Efon so far.