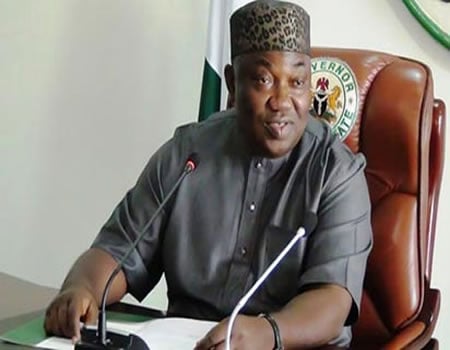 GOVERNOR  Ifeanyi Ugwuanyi of Enugu State on Thursday presented a N98.563, 500,000 billion (Ninety-eight billion, five hundred sixty-three million and five hundred thousand)  Appropriation Bill for 2018 fiscal year to the state house of assembly for consideration.
Ugwuanyi, who sent the budget proposal to the Assembly, christened the budget "Budget of Sustainable Economic Growth'', noted that the 2018 budget proposal was 6.77 percent less than that of 2017.
He said that the 2018 budget proposal had a recurrent expenditure of 60.7 percent and a capital expenditure of 37 percent.
The governor, however, revealed that works and infrastructure would gulp the highest amount of N10.5 billion.
He said that the state targeted an Internally Generated Revenue of N2.5 billion monthly.
Ugwuanyi said that the budget would be implemented through receipt of Federal Allocation and IGR of the state.
He noted that the government would do more on infrastructure upgrade, the improvement on Visit Every Community (VEC) projects as well as Ease of Doing Business (EODB) in the state.
The governor also said that a detailed breakdown of the budget proposal would be issued by the state's Commissioner of Finance in subsequent days after it had been signed into law.
Ugwuanyi urged residents of the state to continue to support his administration as well as protect government projects, infrastructure and social amenities in their domains.
It would be recalled that the state government in December 2016 submitted a proposed budget estimate of N105 for 2017 fiscal year to the house.
Responding, the Speaker of the house, Mr Edward Ubosi, lauded the government for increasing the monthly IGR turnover of the state as well as prudent management of the state's resources.
Ubosi also applauded the cordial relationship between the house and members of the executive in the state; while urging that it should be maintained in order to deliver democratic dividends to the people.
"We are assuring the governor that the house will give due diligence to this 2017 budget proposal and ensure that it is passed by the house as soon as possible,'' he assured.