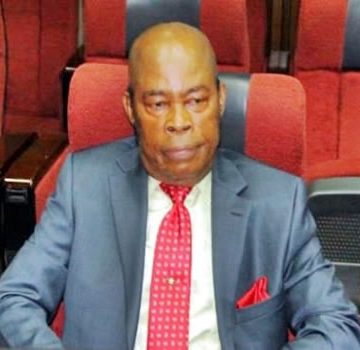 Justice John Tsoho of the Federal High Court sitting in Abuja on Thursday ordered that the money allegedly recovered from the home of Justice Sylvester Ngwuta of the Supreme Court be deposited with the Central Bank of Nigeria (CBN) by the Chief Registrar.
Justice Tsoho gave the order after admitting the bags and boxes containing the money as exhibits, which he marked as exhibit 11 A-E.
The Supreme Court Justice, Ngwuta is facing a 13-count charge, including money laundering allegations of retention and concealment of various sums of money in local and foreign currencies, allegedly recovered from him during the raid of the operatives of the Department of State Service (DSS) on October 8, 2016, in a "sting operation" that involved seven judges.
Justice Ngwuta was among the seven Judges that were arrested between October 7 and 8, 2016 after the Department State Service (DSS) raided their homes in what was termed "a sting operation."
Ngwuta was alleged to have retained in his possession millions of naira and huge sums of money, in hard currencies, contrary to the Money Laundering (Prohibition) Act 2011 (as amended).
It was also alleged that the defendant obtained multiple passports contrary to Section 10 of the Immigration Act, 2015 and punishable under the same Section.
He was alleged to have made false statement to the passport office concerning his date of birth for the purpose of procuring an additional Diplomatic Passport for himself.
At the resumed hearing on Thursday, the court, after admitting the nine bags and boxes containing the money allegedly recovered during the raid, Justice Tsoho ruled that the money be kept with CBN for safe-keep pending the hearing and determination of the charges slammed against the Justice of the apex court.
Earlier, the lead prosecuting counsel, Mrs Olufemi Fatunde, led the 5th prosecution witness, John Otaze, an operative of the DSS to tender the bags and boxes as exhibit.
Otazi told the court, while being led in evidence by the prosecution counsel that he  led a team of DSS operatives to conduct a search on the residence of the defendant, where he said various sums of money in both local and foreign currencies were recovered.
The sums of the money allegedly recovered from Ngwuta's home include N35 million, £35, 915, $319,096, 50 South Africa rands, €280, 000 (Euros), 380 Dirhams and 420 dalases.
Ngwuta pleaded not guilty to all the charges preferred against him by the Federal Government when read out to him.