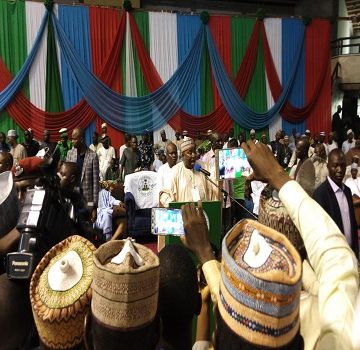 THOUGH the Speaker of the House of Representatives, Yakubu Dogara led a faction of the ruling All Progressive Congress (APC) boycotted the State Congress of the party in Bauchi, the congress held under tight security with all the former executive members of the party returned unopposed.
While addressing the party members at the end of the of the congress held inside the Multi-purpose Indoor Sports Hall, State Governor, Mohammed Abdullahi Abubakar declared that the leadership of the party is ever ready to take back all members that have reneged from the activities of the party.
The Governor stated that the party is a united entity in spite of differences among the members calling on those aggrieved to have a rethinking and come back into the fold for good governance.
He assured that no member of the party will be victimized because according to him people have the right to express dissatisfaction due to the reason that no process is perfect.
In his address, Speaker of the Bauchi State House of Assembly, Kawuwa Shehu Damina expressed surprise that members of the National Assembly from the state deliberately refused to come to Bauchi state to participate in the congresses.
The Speaker said that "if President Muhammadu Buhari who is the leader of the party can go to Daura to participate in the processes I saw no reason why Yakubu Dogara and others will not come here to take part in the exercise."
ALSO READ: APC goes to war in states
He concluded that their action was bent on dividing the party but said, "the APC is united in Bauchi and today this Congress has shown that democracy is at in Bauchi APC and Buhari is a dominant force in the politics of the state."
On the aggrieved members of the party, Kawuwa Shehu Damina opined that every member of the party has the right to seek redress but the proper mechanism of the party in addressing such grievances should be exhausted for peace to reign.
In his acceptance speech, Uba Ahmad Nana who was re-elected as the State Chairman promised to be fair and just to all members of the party irrespective of the differences.
He appealed for support, cooperation and teamwork from all the elected officials as well as other party members so that victory of the party can be made easy in the 2019 general elections.
While speaking to our correspondent on phone, a member of the Yakubu Dogara led faction, Muhammad Bala Jibrin said that they decided to boycott the congress because the matter is already in court.